Nowadays, the prodigious number of internet users is increasing day by day. Even saying that the father/mother first goes to the internet to search for the essentials and other items for a newborn baby is not a hyperbole.
Yes, you get it right. Here, we are talking about eCommerce Website Store Development.
Presently, the role of e-commerce is a hot topic across the world. Increasingly, brick-and-mortar stores are warmly embracing digitization to take their offerings to the internet. In the next few decades, the trend is showing no sign to get slowing down.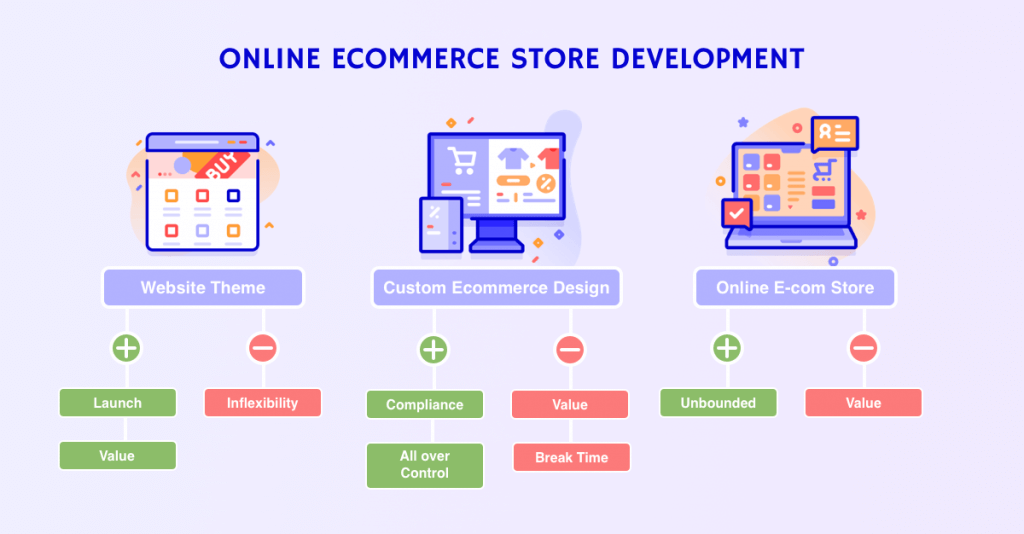 A couple of statistics speaking the same:
The digital buyers would grow to 2.14 billion by the year 2021, that's nearly 25% of the world's population.
Ecommerce sales are expected to account for 15.5 percent of retail sales by 2020.
It's projected that 95% of all purchases are made through eCommerce by 2040. So the role of website in e-commerce will be huge.
The #1 reason people shop online is that they're able to shop at all hours of the day. That's why the role of website in business is huge.
Around 57% of the users use a mobile retail app to find retail product information.
Revenue in the eCommerce market is projected to reach $2,411,638 million in 2020.It is good to have a ecommerce online store.
The user penetration is 46.6% in 2020 and is expected to hit 60.3% by 2024.
Hope the statistics are enough to convince you of the bright future of eCommerce. Still, need more reasons to confirm that your business urgently needs an eCommerce online store? If so, let's dig deeper.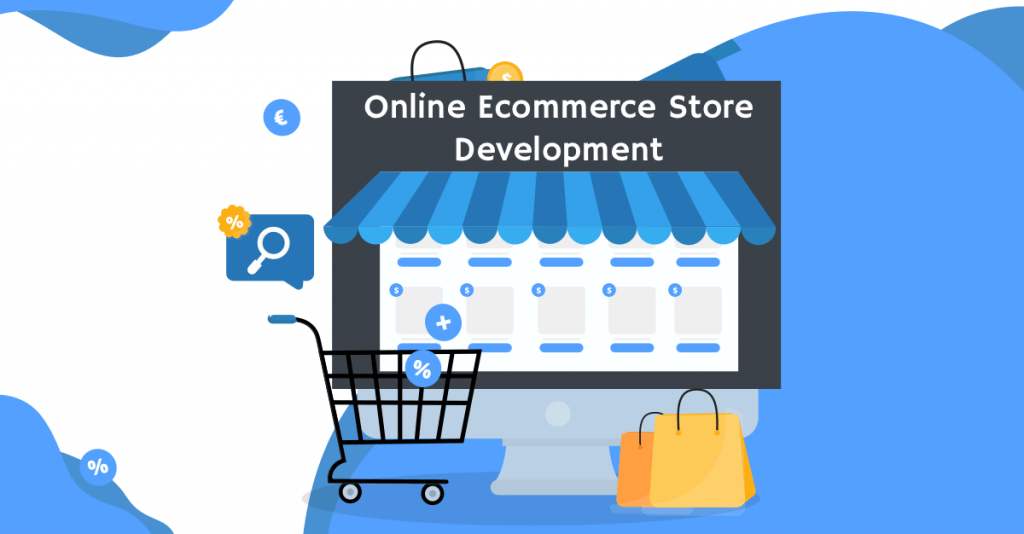 Why Do You're Business Need An E-Commerce Web Development Services or App?
Whatever your business is? But, when we look at the figures, 70 % of businesses have digitized their business with e-commerce to rapidly increase their sales. Of course, if the purchasing process is easy and user-friendly then consumers are more willing to purchase.
Increase market outreach
Firstly, it's not wrong to say that the shopping trend has completely changed. For instance, if you have a garment business somewhere in the world, you could only target the limited buyers in your area because your work does not commercially exist over the world of the internet. The online eCommerce store development helps your store go global.
No time restriction
Can you make money while sleeping? Of course not. Right? But an online store can make the statement come true as the store remains open 24/7. It means people can shop anytime, anywhere depending on their time and place preferences. It would be like you wake in the morning and get to see ten items sold with $500 revenue credited. It's amazing.
Low upfront cost
As compared to physical stores, online stores are set up at a fraction of the cost when you get teamed up with the right development partner. Once the store is up and running, you need to focus on marketing and customer relationship to get ahead of the pack. The personalization element and attractive discount help you get more customers to the store.
Get an edge competition in Ecommerce
In today's fierce competition, E-commerce is the only way of converting your mortar store into an innovative brand store. Also, the role of technology in e commerce can't be denied. That's why your competitor is one step forward even after having a small business. Leapfrog the competition with omnipresence.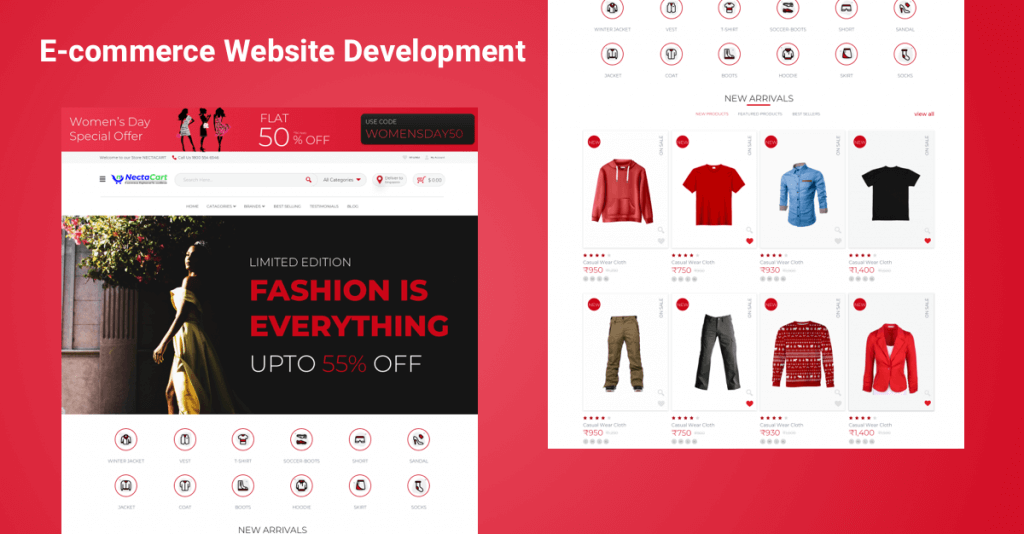 Improve eCommerce Website Traffic
Assuredly, you will be having a terrific amount of traffic if the business would be gone under an online service, including social media as well as blogs, and well-structured sites.
Adds flexibility
To run a business, it's not necessary to sit in one place. Just like your customers can purchase from the comfort of the couch, you can also run the business from any corner of the world. What you require is- a laptop, internet accessibility, and phone service to administer and manage everything.
Earn more on the eCommerce website
Ecommerce product selling is not the only source of income for a retail store. Instead, there are enormous opportunities to earn a predicted amount of $100000 a year by Google Adsense where you can oversell an Ad at your portal if your portal generates massive traffic. Get the ecom web development services.
What's more?
Let's have a glimpse of the top-rated sites which had started their business by going online.
OLX.com varies over more than 40 countries and generates maximum revenue. Similarly, Pakwheel, Amazon-like sites had Domineer's digital world for a decade. Contact an ecommerce development agency for more details.
Likewise, continuing with the same example of the garment shop, now if your income is 5,00,000 with 5000 buyers coming to your shop every year. However, those would remain 5000 thousand every coming year. On the other side, if you will have an e-commerce site this 5000 customers would grow to 50000 customers and so on. Be on the best online ecommerce websites by contacting the ecommerce development agency.
Read more :
How much does it cost to build an eCommerce website?
We meet up-to-date technology needs and even have dynamic knowledge of any technology in the field of core development, such as iOS, ANDROID APPLICATIONS, and eCommerce Website Development Company We couldn't give you an exact amount of per-app/website development until you reached out to us because every website and its features are unique brings differences in the development cost.
On average, the Ecommerce website development cost ranges between $10,000- $30,000.
The main reason is that the development of sites/applications depends on the client's requirements because we focus on providing quality features to achieve 100% satisfaction.
Why Choose Nectarbits As Your Ecommerce development agency & App Development Partner?
As we are different from the market, we believe in the SDLC strategy to engage with the clients during the requirement process. To better understand the client's requirements, the analysis team analyzes the projects in the minimum time so that everyone stays on the same page.
Later, the project is passed to the designing team that crafts different user-friendly interfaces to meet the project requirements as well as market competitors. Finally, the development team transforms your business into an electronic commerce store to make your business presence felt in the online world.
Afterward, the project is passed to a testing team with market-holding experience to ensure flawlessness and life satisfaction. Not only this we are also more innovative than others by giving you proper maintenance of your business sites and eCommerce website.