One of the crucial parts of any product page is the preview images of the product. It can either make or break your ecommerce business.
The product image is what you first view and grow an impression on and which decides your interest or uninterested in that particular product.
So it's extremely necessary for an ecommerce site or business to have proper and good looking images for its products for a good first impression on the products for its customers. So this comprehensive guide to product photography is important for such reasons so all of it must be taken seriously and should have a big contribution to the actual marketing of the product.
The importance of Product Photography
When you see a product on an ecommerce site, you probably see the images of those. The products with bad photos and less information on the actual products is the most probable we will scroll past and not even consider a second look for.
But with the photos with good pictures and a detailed overview of the product will most likely be appealing to us. Human mind works like that, it tends to go for the things which look visually appealing more than what it can actually be functional for.
Read more : Types Of E Commerce Business Models That Lets You Thrive In 2020
So, the more detailed and good looking pictures there are of the product the more it's likely to be appealing to people and will show a greater interest rate than other products on the same specified product.
Planning your Products for shooting
There's a couple of things that are to be considered during a photoshoot of a product for your ecommerce business. Those can be listed as:
Your niche
Most probably the category of products you plan on selling is also being sold by other people or you may see them as your competitor.
There are things you need to consider, are the products displayed by them stand out more? Are the general standards of your target audience more seen on their end using their products?
You need to consider these facts so that you can plan out how different and more appealing you can be for the audience and customers to come to you and look at your products and grow an interest in it. And here is where you can shine by having some very appealing and detailed looking photographs of your products for your business.
Read more: How to Create the Best Order Confirmation Email for eCommerce
You can give them a very comprehensive look of your product by giving them more image information of the product. Popular Brand's e-commerce sites have a very elegant and appealing site and images to further attract the targeted customers. And so you have to be concise with your product and have to present them in an elegant way.
You're Brand
What your brand represents is what you wanna show on your photos of the products. The legacy and main motive of your business should be consistent on your products and as well as the photos of the products.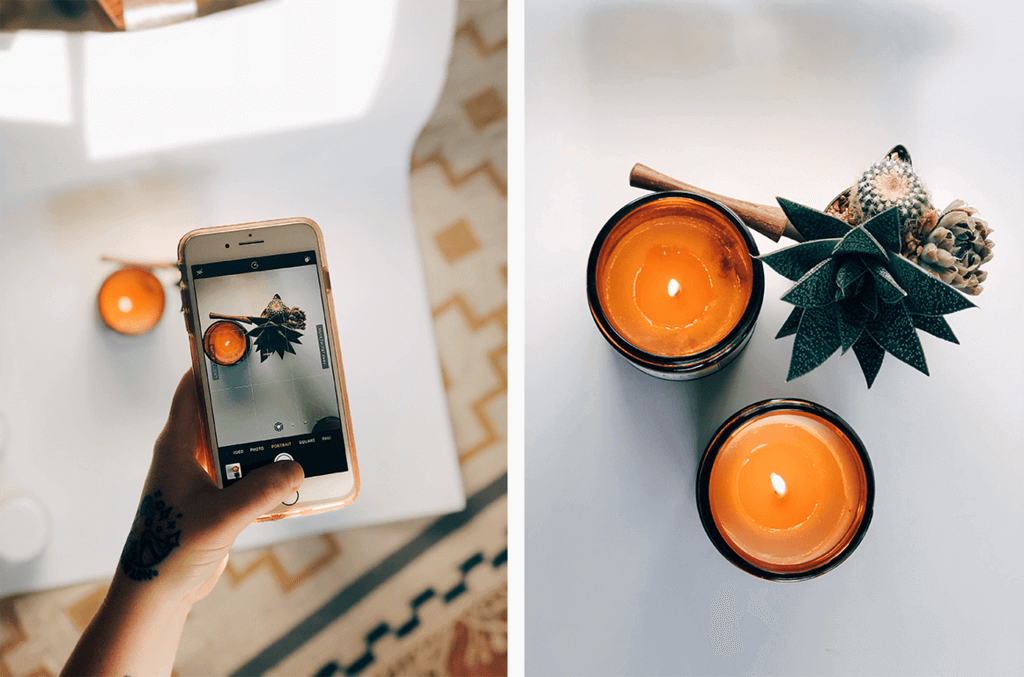 You're Other Products
Being consistent all-around your product page is key. Having different styles of photos for different products is not something you wanna do. This causes inconsistency which hampers in the outlook of all of your products as a whole.
So having a similar style and vibe to all of the product images is advised and is considered good practice.
Studio Setup
Having a dedicated place for shooting your products can be a lot valuable in the long run. As all of your products will have similar styles of photos, it's smart to have a dedicated place you want to shoot your products in.
For the setup of your studio, you'll first need proper and consistent lighting on your workplace. It's advised not to rely on sunlight as your light source as sunlight can be inconsistent at times which may cause different looking images at different times.
To solve that problem it's good to be in a room or place where sunlight doesn't come in. And the primary light source will be the studio lights you'll need for the shoots. It's good to have studio lights if you're taking it seriously.
But if you're tight on budget a good lighting of a room will be enough to satisfy your needs.
Make sure the studio you're setting up for the shoot of the particular product is getting the perpetual type of attention or else you might miss out the sights of perfections.
photo retouching that came out is also one of the main things to take care of for the photographs because it is a must. It assures the perfection which might miss out. Because the better your photograph comes out the more it gets worthy
If any kind of natural effects are needed then make sure you're doing it for the photo so that it comes out good. Must contain different kinds of props.
If you're using any kind of device for the shoot as in laptop or pc. The camera can be connected to it so that any kind of obstacle or disturbance is not created to the camera angle. On the other hand. Macro lens 105mm of 2.8 for the camera is mostly used for the product photograph (optional). You can use your own determined lens and make sure it comes out good with the focal lenses. Besides, light shades should uphold the definite angle of the object too. Use butter paper for the spotlight and minimum energy level. White backgrounds are ideal for product photography.
Product photography isn't much of a hard task to do. Putting out the better angles for any product to make it look better is the only way you can achieve a better platform for it. This comprehensive guidance given above to product photography for e-commerce is definitely helpful for you. Try to make each of the steps work out for you by making sure you're doing each of it correctly. You never know what you have in store for the future. Stay hydrated and be happy at everything you do!
Stepping over the following steps as your tasks can help you to reach your goals and uphold you in the best position!