The Best Salon Scheduling Software for 2023
Let's accept it: it's an app that creates all the differences for the business.
Salon businesses that have embraced salon scheduling software are real-life proof of the same. They have experienced seamless appointment scheduling, smart inventory management, effortless payment, customer relationship management, and digital marketing, which helped them improve salon productivity and ROI. It sounds good.
It means it's the right time to get your salon business organized with salon scheduling software adoption. What's next? You jumped on the research bandwagon to choose the right salon software. But the research journey proves to be more confusing. See why?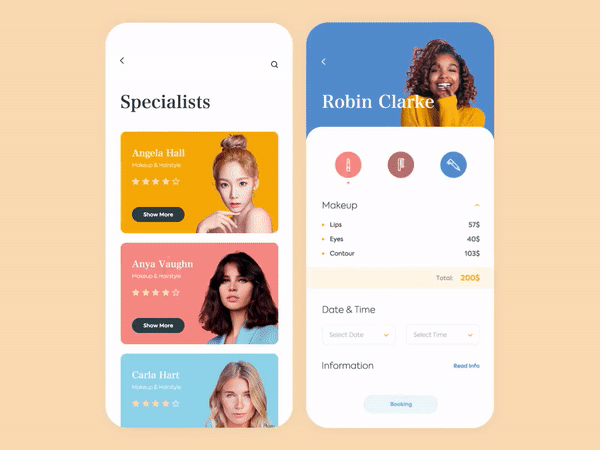 During the research, you will find a long list of salon software that you have compared using user reviews and service provider claims. The salon software provider always claims that their solution is the best way, while hiding all the peculiarities. Plus, the one-to-one comparison is not a feasible option. What to do?
Don't worry. We have got your needs covered in the blog enlisting the top 10 salon scheduling software. Let's dive in!
Square Appointment: The Top Choice for Salon Scheduling Software in 2022
Square Appointment is the leading scheduling software for salons in 2022. With its comprehensive features and easy-to-use interface, it simplifies the booking process for both salon owners and clients. Square Appointment allows salon owners to manage their appointments, staff, and customer information all in one place. The software also offers customizable booking pages, automated appointment reminders, and inventory management tools. Additionally, Square Appointment integrates with other Square products, such as payment processing, to streamline the entire transaction process. Overall, Square Appointment is the ideal choice for salons looking to streamline their scheduling and enhance their customer experience.
The On Demand Salon appointment scheduling app solution is booming across the USA, Canada, and Australia because of its minimalistic design, advanced functionalities, ease of use, and competitive price. The solution encompasses an online booking website and Android and iOS apps.
It allows salons and individual stylists to effectively manage appointment bookings. Square also offers seamless integration with other Square products, like credit card readers, POS, marketing suites, and others, which makes it a complete package for salons.
Read more: Top 10 Benefits Of Complementing The Beauty Salon Business With A Mobile App
Also, the app facilitates free subscriptions for individuals. The advanced inventory management sends stock alerts so that the items never run out of stock. The SMS and email reminders help the customers not forget the booked appointment, which results in zero show-up failures.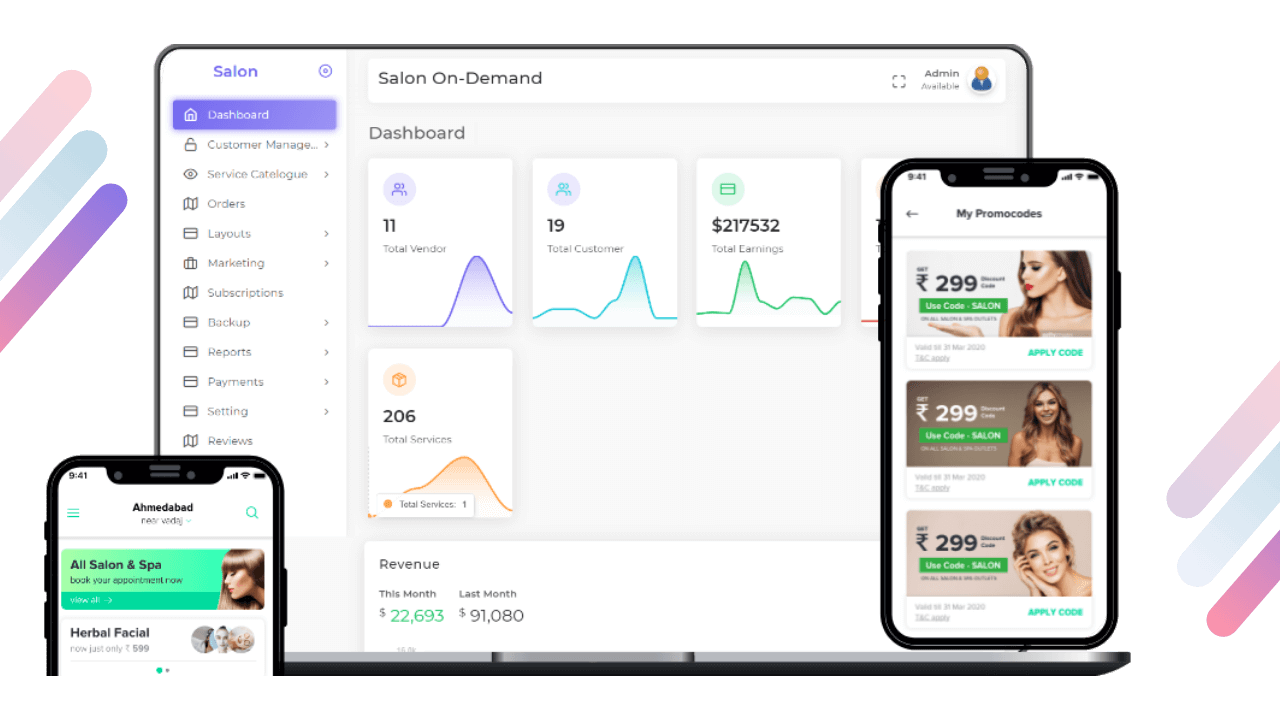 Salon booking app development
Salon booking app development is changing the way hair salons run their businesses. A salon scheduling software, like Shedul appointment booking software and POS, simplifies the booking process and helps to better manage appointments, all while providing a seamless experience for customers. With features like booking confirmations and reminders, clients are less likely to miss their haircuts, reducing no-shows and increasing revenue for the salon. Plus, with the ability to book appointments online 24/7, clients have more flexibility in scheduling their appointments at their convenience. All of these benefits make hair salon booking software a must-have tool for any successful salon business. The free dashboard displays up-to-date appointment bookings, online bookings, appointment cancellations, and client notifications.
Salon Software
The comprehensive software is known for its simplicity in managing everything centrally. OnSalon is an on-demand solution that provides all the features that a beauty salon needs for successful business management, including administrative tasks, appointments, payments, and salon services. As a leading beauty salon app development company with experience of more than a decade in salon application development, DevTechnosys has developed several mobile apps for beauty salon chains and beautician service providers, empowering them to enjoy strong relations with their clients and provide excellent customer service. The feature-rich platform, packed with intuitive UI design, is highly customizable and enables salons to give their salon businesses a digital makeover in a personalized fashion. Our precision and perfection in delivering our top-notch salon app development services can increase your visibility, attract new customers, and help build a good customer base. All of these credits can be achieved through the best mobile application development at Concetto Labs. We can help you create your salon application by applying for the following services:
The email marketing, loyalty program, appointment reminders, push notifications, and advanced inventory management make it easy for the salon to increase business exposure, attract more customers, and uplift conversion. The salon can either choose to use the platform using a subscription model or purchase it.
Schedulicity
The online scheduling app allows salon owners or individuals to manage work schedules. When the salon acquires the platform, business owners can add various services to display on the front-end and schedule the services according to their availability. When the booking requests are received, the admin can view all requests together on the dashboard and manage the appointments, including future bookings. With a simple customer management module, the admin can add, edit, or delete the customer profiles.
The scheduling software is free to use for the salons. When the salon requires advanced features, the software facilitates add-ons, including payment, reminders, package management, auto-billing, and location management. The software is a perfect pick for small businesses.
Booker is a renowned individual in his field
If you are looking for a digital salon solution that allows customers to schedule, book, and pay right on the page they are on without much back-and-forth (redirecting to other pages or apps), then Booker is the right fit for your business. The online platform created by MindBody facilitates online booking, online payment, and digital marketing in one package.
Read More: The Ultimate Guide About Service booking Marketplace Platform
With Booker platform deployment, the salon can allow customers to schedule, book, and pay right on the website. If customers browse the salon's Facebook page, they are allowed to book the appointment right there. The software allows salons to improve marketing efforts with social promotions, loyalty programs, and discounts on popular discovery platforms like Reserve with Google, Facebook, and Instagram
Rosy
The Rosy software will make everything rosy for your salon business. With easy salon scheduling at your fingertips, the complete package facilitates multiple things in parts. The scheduling module allows salons to maintain customer appointments and offer customized auto-reminders. The simple checkout enables salons to manage all transactions, cash drawers, gift cards, and other things. Mobile responsiveness allows salons to monitor and control the salon remotely. All the features listed above come in a standard package that costs around $27.
The premium package includes marketing tools such as text messaging, email marketing, and so on. It cost around $37 to the salon if they had only one professional within the salon.
Simple salon
Just like the name suggests, simple salon software is easy to install, easy to comprehend, and easy to use. The software provides a range of booking, payment, reporting, and marketing features that meet all the digital requirements of the salon. The video training facilitates easy setup of the software and data migration to the platform.
The software provider offers everything in a single package, but the package cost depends on the number of professionals working at the salon. If the salon doesn't want the number of professional-related limitations, they can choose the package that costs $99 and facilitates unlimited staff.
Timely
The scheduling software provides easy access to salon bookings on the salon website and the salon's Facebook page. With the help of Appointy's salon booking system, the salon owner can efficiently manage the customers and deliver personalized experiences through tailored automated reminders, product recommendations, and loyalty programs. The iOS app counterpart's availability allows the owner to conveniently manage, run, and track salon management on the go. Additionally, Appointy's software is compatible with various devices, such as computers, iPads, tablets, and smartphones, making it convenient for salon professionals to access and use the software.
The software provides various packages that meet the needs of salons of different types and sizes. The small salon can go ahead with a scheduling package wherein they can access all the booking features. If the salon wants to include retail features, they should opt for the scheduling and selling package, where they get access to all scheduling features in addition to product retail.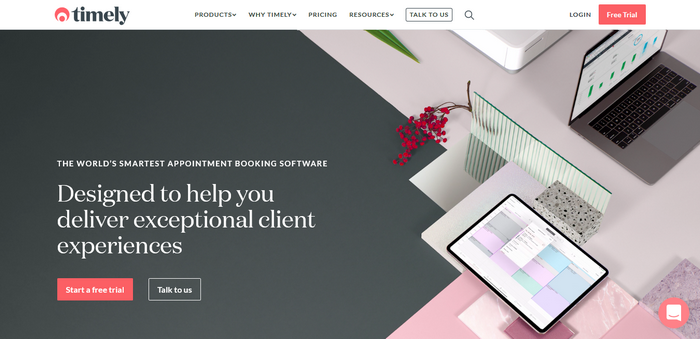 Acuity scheduling
Subscribing to the digital platform often limits the salon's customization. It won't allow salons to reflect the brand in the app. Acuity scheduling is the ideal solution that allows salon businesses to customize everything without needing to compromise anywhere. It allows the salon to add uniqueness to the digital solution by branding the booking page and seamless integration with a number of third-party tools.

Covering the broad spectrum of needs of various sizes and types of salons, the software renders the best scheduling experience. It's free for individuals and premium for salons with several professionals working under one roof.  
Fresha
The software, formerly known as Schedul, is available worldwide and has served more than 50,000 salons across 120 nations geographically. It's highly known for its subscription-free facility, no trial, and no usage limits. Despite being available for free, the platform is continuously upgrading to keep up with the modern platform.
The open-source platform is a good fit for salons or individuals on a shoestring budget and not tech-savvy (Easy learning curve). The Fresha marketplace helps you to get more customers to discover your salon at ease. However, the lack of customization options is a limitation of the platform that can be overlooked when we look at the plenty of advantages it offers.
Versum salon
Getting complete salon software within a small budget is tricky. That's where Versum salon is the best pick. It covers all the salon operations and marketing activities at a reasonable price. It provides a 50% discount to the salon businesses buying or subscribing to the software package.
The software works seamlessly across the UK via an online booking website and iOS and Android app support. Under advanced features, it offers advanced inventory management, customer management, business reporting, and loyalty program.
Epilogue
Looking to maximize the salon business growth with the increased number of bookings, higher customer satisfaction, and better ROI? If so, it's the right time to add spark to your business with salon scheduling software adoption. However, the software selection process is tiresome. That's why we have got your needs covered in the blog with a list of top 10 salon scheduling software. The best pick of the salon world helps you narrow down the choice to one salon software. Read and find out which one fits the bills.
Spa delivery apps development
Spa delivery apps development is one of the best benefits of salon scheduling software that enables spa businesses to offer on-demand spa services. With the help of a spa delivery app, customers can schedule spa appointments and have spa services delivered to their doorstep. The spa delivery app development feature in the salon scheduling software helps spa businesses expand their reach and offer more convenience to their customers. Customers can avail spa services anytime, anywhere with just a few clicks on their smartphone. This feature also helps spa businesses increase customer loyalty and retention by providing a seamless spa experience.
Reminder Notifications
Salon scheduling software offers the convenience of sending reminder notifications to both the salon and its clients. The notifications help reduce missed appointments, as it is easy for customers to forget their scheduled appointment times. With a notification system in place, salons can send reminders to clients about upcoming appointments via text or email. This way, clients can confirm or reschedule if necessary, which helps the salon maintain a full schedule and avoid lost revenue due to no-shows. Reminder notifications also help improve customer satisfaction by showing that the salon values their time and provides excellent service.
Dashboard Management
Salon scheduling software dashboard is designed to make managing your salon simple and easy. With dashboard management, you can view all of your appointments at a glance, manage staff schedules, and track client history. This dashboard feature provides you with real-time updates on which staff members have availability and when, allowing you to easily book appointments for your clients. Additionally, the dashboard also allows you to track sales and revenue data in real-time, giving you insights into how your business is performing. Overall, dashboard management is a powerful tool that can help you streamline your salon operations and improve overall efficiency.
Cosmetology Services
Cosmetology services require scheduling and appointment management to ensure customer satisfaction and efficient operations. A salon scheduling software is a cosmetology business owner's best tool. With this software, cosmetology businesses can easily manage appointments, keep track of their clients, and maintain product inventories. The software also allows cosmetology businesses to set up automated reminders for appointments, which helps reduce no-shows. This way, cosmetology businesses can focus on providing their clients with exceptional services while also increasing their revenue.
Facebook & Instagram
Salon scheduling software is now integrated with social media platforms like Facebook and Instagram, allowing salons to book appointments online through these channels. By utilizing the power of social media, salons can reach out to a wider audience and attract new customers. Facebook and Instagram also offer advertising opportunities that can be targeted to specific demographics, making it easier for salons to market their services to potential clients. With the integration of salon scheduling software and social media, the process of booking appointments has become more convenient for both the customer and the business owner.
iOS App Development
IOS app development is an essential feature of salon scheduling software that allows salon owners to manage their business from anywhere, anytime. With the iOS app, salon owners can easily check and modify appointments, track staff schedules, and monitor inventory levels. The app also helps to streamline communication between clients and staff by sending automated reminders and confirmations for appointments. The intuitive design of the iOS app makes it easy to use for both salon owners and clients, resulting in a better experience overall.
Android App Development
Salon scheduling software has revolutionized the beauty industry by facilitating business owners to manage their salon operations efficiently. Android app development is an essential element of salon scheduling software, which allows salon owners to manage their appointments from anywhere in the world. Salon scheduling software with android app development is a perfect solution for businesses that want to streamline their operations and provide a seamless experience to their customers. The android app helps salon owners to manage their appointments, staff schedules, inventory, and customer data with ease. With android app development, salon scheduling software becomes even more accessible and convenient for businesses of all sizes.
Email & Text Marketing
Salon scheduling software not only helps manage appointments but also offers email and text marketing features that help to keep clients engaged and informed. The email marketing feature allows you to send newsletters, promotions, or other updates about your salon, keeping clients up-to-date on new services or products. The text marketing feature can be used to send appointment reminders, which reduces the likelihood of no-shows. By using email and text marketing, salons can build stronger relationships with their clients and improve customer retention.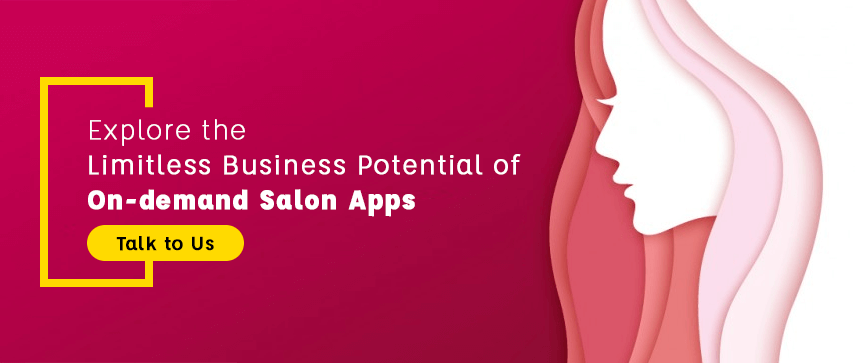 Frequently Asked Questions
Q1. What are the benefits of using salon scheduling software?
Using salon scheduling software offers numerous benefits for both salon owners and clients. It streamlines appointment booking, reduces scheduling conflicts, improves customer satisfaction, enables online bookings, automates reminders, and provides valuable data for business analytics and decision-making.
Q2. Is it possible to develop a salon scheduling app for iPhone?
Yes, it is definitely possible to develop a salon scheduling app for iPhone. With the advancements in mobile app development technology, you can create a user-friendly and feature-rich app that allows salon owners to manage their appointments and customers to book appointments conveniently from their iPhones. The app can include features such as real-time availability, online booking, appointment reminders, customer profiles, and more. It would be beneficial to work with an experienced mobile app developer who can guide you through the development process and help bring your vision to life.
Q3. What are the benefits of using salon scheduling software?
Salon scheduling software offers a range of benefits for both salon owners and their clients. Some key benefits include:
1. Efficient appointment management: Salon scheduling software allows you to easily schedule and manage appointments, reducing the risk of double bookings and ensuring that your salon operates smoothly.
2. Improved client experience: With scheduling software, clients can book appointments online at their convenience, eliminating the need for phone calls or waiting on hold. This enhances the overall client experience and satisfaction.
3. Automated reminders: The software can send automated appointment reminders via email or text message, reducing no-shows and last-minute cancellations.
4. Staff management: Salon scheduling software often includes features to manage staff schedules, track performance, and assign tasks, making it easier to coordinate your team and optimize productivity.
5. Enhanced marketing capabilities: Some salon scheduling software includes built-in marketing tools such as email campaigns or loyalty programs that allow you to engage with your clients and attract new customers.
6. Real-time reporting and analytics: The software provides valuable insights into your salon's performance, allowing you to analyze trends, identify opportunities for growth, and make data-driven decisions.
Overall, using salon scheduling software can streamline operations, improve customer satisfaction, and help grow your business.
Q4. What software does a hair salon use?
Hair salons typically use salon management software or appointment booking software to help them manage their appointments, client information, and inventory. Some popular salon software options include:
1. Booker: A cloud-based salon management software that offers features such as online booking, POS (point of sale), and marketing tools.
2. Salon Iris: This software provides features like appointment scheduling, client management, inventory tracking, and reporting.
3. Vagaro: Vagaro is a comprehensive salon and spa software that includes features like online booking, POS, marketing tools, and staff management.
4. Timely: Timely is a user-friendly salon management software that offers features such as appointment scheduling, customer database management, and reporting.
5. Shortcuts: Shortcuts is a salon software solution with features like appointment booking, marketing tools, inventory management, and reporting.
These are just a few examples of the many software options available for hair salons. The specific software used may vary depending on the size and needs of the salon.