I often use Bla Bla Car, a ride-sharing app, to travel from one destination to another. For me as a customer, it solves a great need. I can choose who to ride with, which day/ time and even where the pickup and drop would be. All this information smoothly exchanged on an app interface!
Creating a seamless ride sharing app are seeing phenomenal acceptance. Ride-hailing apps like Ola, Uber, Bla Bla Car and many others have seen great success in recent times and why not? Ride-sharing apps offer a great deal of convenience providing a bundle of benefits – they are faster, economical, efficient, and comfortable rides for everyone, everywhere.
Talking briefly about the emergence of shared mobility, we will start by what it means. Forming an integral part of a broad concept called shared economy or collaborative consumption, shared mobility involves direct peer to peer sharing of assets and services via internet-based platforms. Having received great success in densely populated countries like India and China, the shared mobility market is projected to grow to US$ 619.5 billion by 2025.

Why has Ride-Sharing become popular?
The reasons are many – more flexible travel options, more economic and affordable rides, less traffic congestion and carbon emissions, better transparency, more sustainability, being some of the primary reasons why ride-sharing has seen great adoption from people across the globe.
However, developing and launching a Taxi-hailing app needs a holistic approach. Creating a seamless ride-sharing app depends a lot on integrating the right features and right technology. If you are an enterprise thinking of creating a ride-sharing app, here are some important features you cannot afford to miss!
Primarily, the target audience for any ride-sharing app is the end of the commuter. As a company that provides a ride-sharing platform, the customer user experience needs to be impeccable.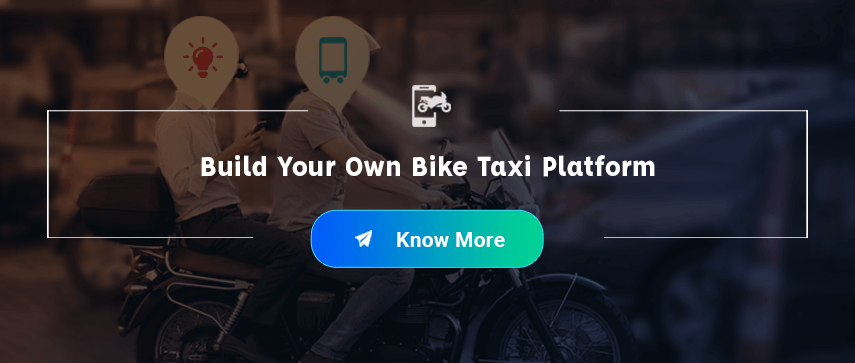 Top 5 features for consumers in a ride-sharing app
Make the sign-up process as simple as possible. This being the first interface for your customer, ensure that the sign-up process of your ride-sharing app is extremely user-friendly.
Once the customer signs up, next he wants to book a suitable ride. The ride-sharing app needs to make this step effortless. The app should be designed such that it makes booking a ride time-bound and user friendly. The app should allow the riders to enter the pick-up and drop-off locations on the search box, improve the ride search time, and provide accurate ETAs.
Providing visibility into the driver's movement is also critical. GPS tracking helps to track a driver's movement on the field and this is a great feature as it eliminates confusion and allows the commuter to be ready for the ride.
Integrating various payment options provides great flexibility to commuters to pay for a ride. In a shared ride, the payment must take into account the distance traveled and the number of riders so the payment is split accordingly.
Adding to the flexibility of the commuter is the facility to cancel a ride if the commuter does not need it anymore. How easily one can cancel a ride without wasting time? This is an important and helpful feature in any ride-sharing app. It can be structured to include any fines if rides are canceled after the stipulated time-frame. But the process needs to be transparent.
Read more: White-label Taxi Application Vs. Custom-Built App ?
Other useful features for commuters in a ride-sharing app
Push notifications: Timely alerts are a great way to keep the commuter informed about the ride as well as about any offers or discounts
Help Centre: Provide an interface where the commuters can raise their issues, queries, or grievances.
Rider information: Visibility into who the other riders are is critical in a ride-sharing app to gain trust and provide security.
Drivers are the other important side of a ride-sharing app. The app acts as an interface between the customer and the driver. Let's understand what features are critical for drivers of any ride-sharing app: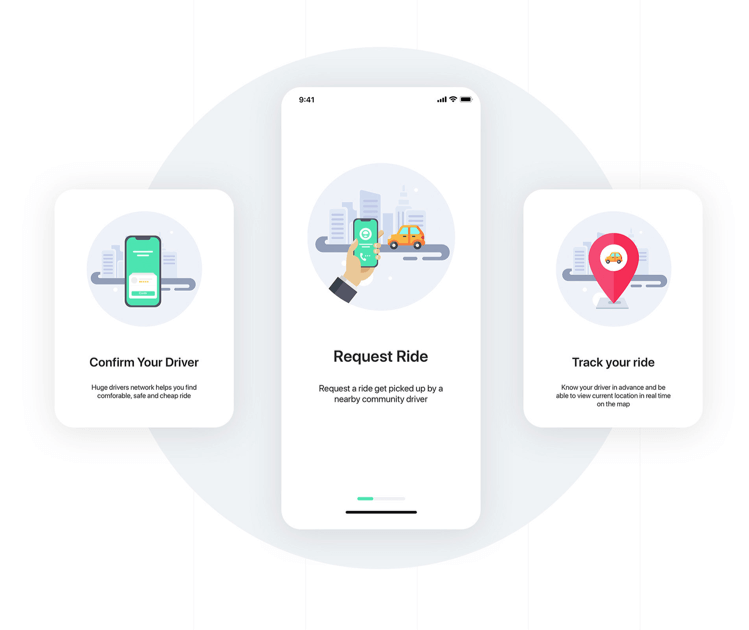 Features essential for drivers in a ride-sharing app
Make driver onboarding smooth and easy. Your drivers come from different backgrounds so ensure the sign-up system is such that they can get on to the ride app without getting lost in technicalities.
The driver should have the option to accept or reject the ride as per his convenience. The policies can be worked around to ensure some flexibility is also provided to the driver, else he feels pressured. It is a 2-way process.
Multiple rider information
In a ride-sharing scenario where multiple riders are traveling together, the driver should have complete visibility into the information of every rider so he can synchronize the overall ride plan and estimate the time it will take to complete the ride.
Maps navigation is a prerequisite in any ride-sharing app. It helps the driver find the right customer location and take the optimized route to reach the location in the fastest time. This is extremely useful for new drivers who may not be well-versed with the location helping them navigate using optimized routes.
Convenient Payment System
Train your drivers to use cashless payment options like wallets that are increasingly being used by customers. Wallets remove the need for hard cash transactions making them secure and fast. It's a great feature for your drivers to link to, also beneficial in scenarios where cash/change is not possible.

Other useful features in a ride-sharing app
Some other trending features that any ride-sharing app must include would be:
SOS button to report any emergencies
New offers and discounts for loyal users
Monthly plans or passes for regular travelers
Advance Ride Scheduling feature, even for outstation trips
Multilingual interface
Offline connectivity
Ratings and review
Countries across the globe are leveraging the data shared on mobility platforms to improve the future of transport. Everything around us is getting connected more than ever and so is the case also with multi-modal transportation. On-demand transportation has witnessed a great jump owing to the convenience it offers. Be it shuttle, bike, two-wheeler or car, shared mobility offerings are seeing great interest and success.
Any why not? Shared mobility platforms offer the right solution for fast-growing cities. For customers it offers affordable price points; for drivers, it means more business per ride; for the environment, it means optimized rides leading to better fuel usage and lesser traffic woes. A win-win indeed!