INTRODUCTION TO HOME SERVICES BUSINESS IDEAS
Life has become very busy nowadays. Due to their hectic work schedules, people don't get enough time for their routine household chores. And thus they look for outside help. 
On-demand Home services apps are a great relief for such people. They can lend a helping hand using these online home services apps for any household job. Be it for house cleaning or plumbing or dog walking, the online handy services apps can provide professional help for each job.
If you plan to start your own home services business, this blog is for you. We have listed the best on-demand home services business ideas to start in 2022. Read the blog to grab a business idea for you.
Top Home Services Apps in 2022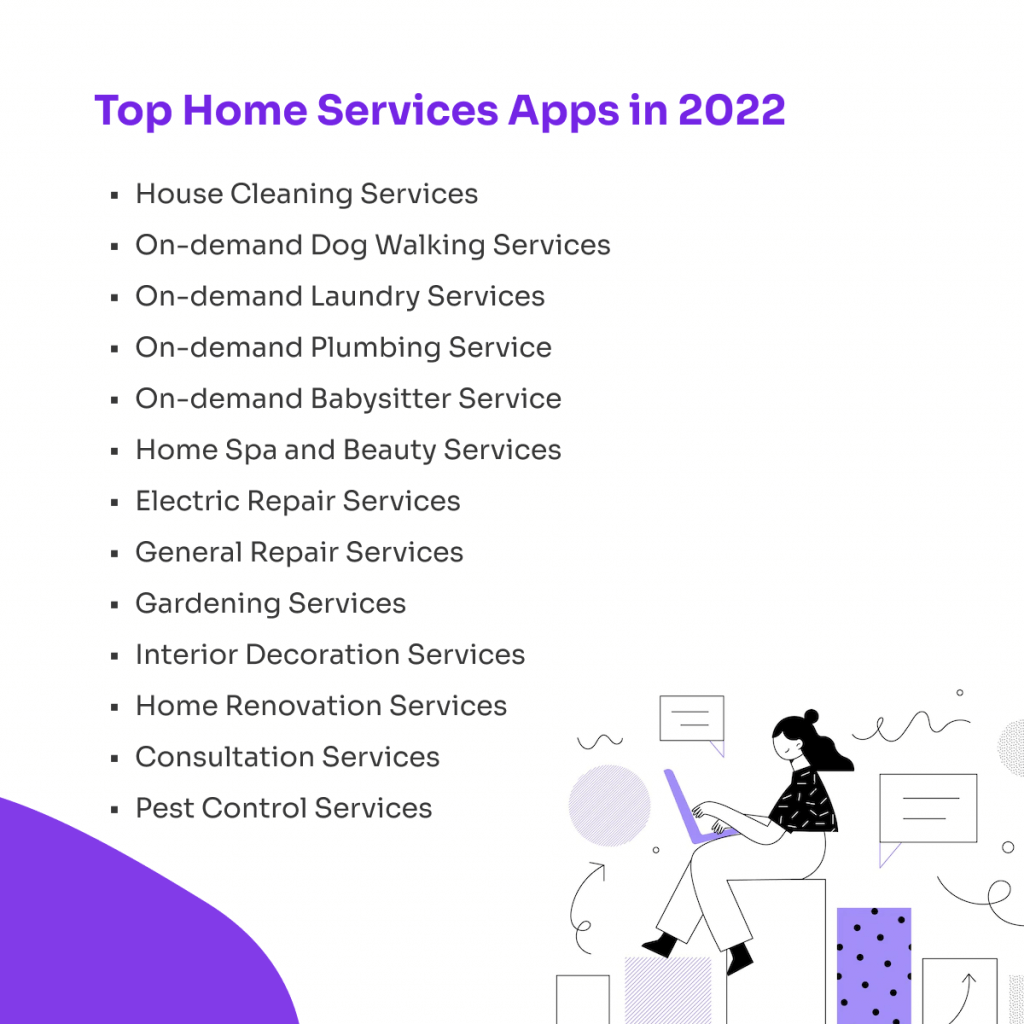 1. House Cleaning Services
You want a neat and clean house but don't have enough time to manage the cleaning chores on your own. Working professionals, single parents, or others cannot manage their office work and house duties simultaneously. They also struggle to find a trustworthy maid or housekeeper in their locality.
In this case, an on-demand home services app enables them to get professional home cleaning services. They can hire housekeepers or maids for routine or occasional cleaning chores. They can get immediate help to keep their house clean and hygienic.
They can also book expert services for deep cleaning and sanitization to keep the COVID virus or infection at bay.
To build an on-demand home services mobile app, you can connect to a top on-demand home services app development company. We, at Nectarbits, provide custom home services app development services at a budget-friendly cost.
2. On-demand Dog Walking Service
Dogs are the favorite pets of every other person. They treat them as their family members. But due to their busy schedules, they can't find enough time to take care of them. Thus, they need professional help who is trained in taking care of pets.
If this business idea fascinates you, don't think twice. On-demand Dog walking services or pet care services are in massive demand. People do not hesitate to pay good amounts for special care services.
The on-demand dog walking service app helps dog owners find pet experts via the app and book appointments.
3. On-demand Laundry Services
Laundry is another crucial part of routine cleaning and something that needs special attention. We cannot trust anyone to wash our expensive clothes.
If you are already running a drycleaning agency, you can build an on-demand laundry app or errand services app to go online. This way you will be able to take up more orders for laundry and dry cleaning and expand your business faster.
The online laundry services app allows people to get professional laundry help with doorstep pickup and delivery services. Thus, they can save time washing, drying, and folding clothes.
4. On-demand Plumbing Service
We all face issues related to plumbing some or another day. Sometimes our pipes leak or some other times we may have to deal with a crashed water heater.
But a problem bigger than all these is the lack of available plumber in the vicinity. We often collect numbers of plumbers from our neighbors, and make hundreds of calls to them but in vain. Most often plumbers are busy in some or other job.
In such cases, an on-demand plumbing services app is a great relief. We can easily find various plumbing services available in the locality. Check their availability and book service all without stepping out. With the help of online plumbing services, we get instant support for plumbing issues.
5. On-demand Babysitter Service
Couples who are working professionals find it hard to find time for caring for their babies. In case both parents work from the office, no one is there at home to look after their child.
In such cases, they need a babysitter to be around their kid all the time to take care of it. Some parents even look for a babysitter for a few hours on occasions when they have to go out leaving the baby home for a few hours.
They can easily find a babysitter or seek the services of a professional babysitter through the on-demand home services app. The app shows babysitting service agencies or individual babysitters with their complete details. It helps parents verify the authenticity of the babysitting professionals. They can check their record, identification documents, contact details, etc.
6. Home Spa and Beauty Services
Due to COVID, many men and women stopped visiting spas and salons. Many men and women do not get enough time to visit a spa or a salon. Thus, they look for home spas and beauty services to relax on their weekends. Moreover, home beauty services are safer and hygienic.
With on-demand salon services apps, users can easily call a professional salon service at home. They can check various spa or salon services available online, check their availability and book an appointment or home visit.
7. Electric Repair Services
Issues related to electricity are common and we all face them someday or another. Either a short circuit or a broken electric switch requires immediate help from a professional electrician.
But often the electrician we know is not available to visit the home immediately. So, it troubles us a lot. But with the on-demand errand services app, we can easily find many electricians in the locality and contact them. They can easily check the services they offer, their availability, and the fee to book a home visit.
8. General Repair Services
Besides, electric repair and plumbing services, we often need professionals for other minor repairs in the house. For instance, a carpenter to repair a broken sofa or door, or someone to repair a broken window or a broken tile.
People generally face problems finding the right help for these errands works. Thus, an online errand services app can be a profitable venture to invest in 2022. A leading handy app development company can help you out.
9. Gardening Services
Lawn owners or people with big gardens at home require gardeners to take care of their gardens. Maintaining gardens is time-consuming and requires a lot of effort and attention.
A skilled gardener can do this job professionally. The online home services app allows people to find efficient gardeners to work full-time or on an hourly basis.
10. Interior Decoration Services
Why change the look of only the house? A newly designed furniture is pleasing to the eyes and also gives a completely new look to the house.
If you have an efficient team of interior decorators, you can start your own interior decoration services. You can connect with a top on-demand app development company to build online home services or an interior decoration app for you.
11. Home Renovation Services
After spending many years, people feel the need to renovate their homes to repair the damages. besides giving your house a new look, home renovation also increases the shelf life of the house.
Some who rent their apartments renovate them to get higher rent. So, an on-demand home renovation app can be a profitable business to start in 2022.
12. Consultation Services
Online consulting services are in trend. People are looking for expert advice on many crucial aspects of their lives. For instance, marriage, medical advice, career counseling, etc. If you are an expert in any particular field, you can start your own consulting services.
13. Pest Control Services
Pest control services are in huge demand in the rainy or summer season due to mosquitoes, lizards, cockroaches, etc. So, online pest control services can be a great business idea to start in 2022.
Conclusion
On-demand home services app is a great business to start as people are always looking for some or other services each day. When they get these professional services at the convenience of their homes, they tend to use the app time and again.
So, if you plan to invest in any of the above business ideas, you can connect us at @ +91 8000695266 to get a free consultation or a quote.