What is an Enterprise Software Application?
Enterprise software applications refer to technologies that are utilized by companies belonging to various industries to carry out their operational and strategic initiatives seamlessly.
Typically, such applications can be found in major industries such as government, healthcare, education, customer service, marketing, sales, and finance.
As an enterprise develops, its software requirements increase and become far more diverse. To reduce human error, increase automation, and improve productivity it is crucial to choose the appropriate enterprise software solution that aligns with your business objectives and vision.
To stay on top, enterprises need to deploy these software solutions that serve their clients as well as their business.
Here is a list of 8 Enterprise mobile Applications a business needs, to stay ahead of the competition:
Idea scale
As its name suggests idea scale is an ideation software that helps enterprises to brainstorm and generate ideas on the go, through a centralized platform. It becomes much easier for organizations to connect with their employees and get their feedback, votes, comments, and insights on specific ideas. It is essentially a database that can be accessed by anyone associated with the company. Employees can add ideas and refine them over time through the Idea Scale. This software offers multiple tools to integrate crowdsourcing.
Ideascale is an efficient platform that stands on the three pillars of innovation, evaluation, and development. This solution is for those companies which have large and diverse teams as clear communication in such settings can be difficult. Enterprises can also choose to involve the public, for discovering untapped ideas that can be highly valuable for their projects.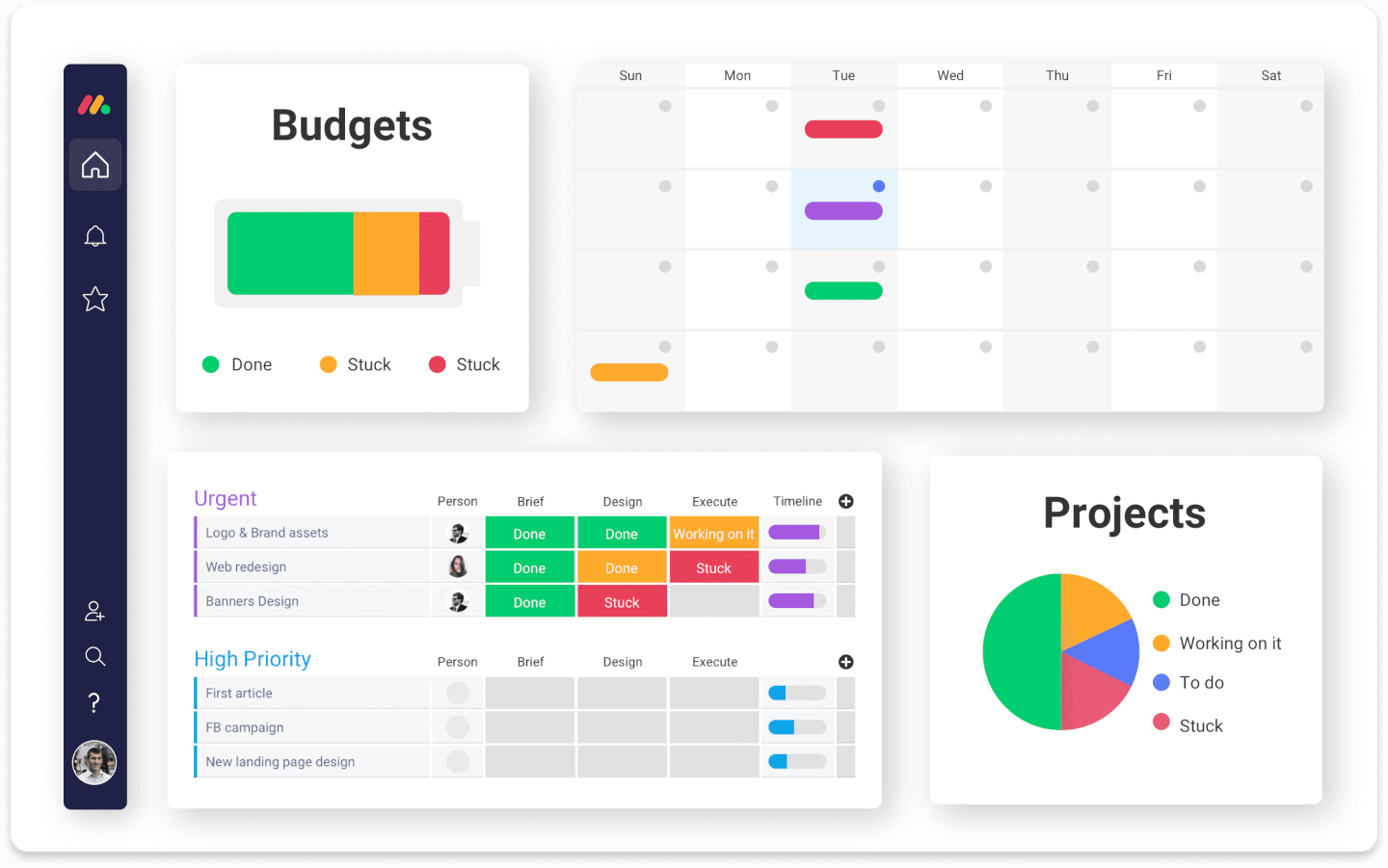 Monday
Monday is a leading collaboration software in the market that allows teams to work on projects while working remotely. This software is great for task management and project management. This application enables team members and partners to make critical decisions together by giving them access to all the information through a single hub. The best feature of Monday is that it assembles and displays the progress of the team members understandably and logically.
This software enables external partners or other project stakeholders to follow the project activities and receive notifications even if they do not have a monday.com account. It is tightly integrated with Dropbox, Zapier, Google Drive, and other third-party sharing and management tools. It also has an open API architecture that enables development teams to construct their integrations.
Zoom
During the current pandemic, there is no organization that has not tried out this revolutionary video conferencing software. Zoom is a communication application renowned for its ease of use and global accessibility. As long as the users have the application installed and running on their mobiles, PCs, and laptops, they can communicate with each other from anywhere at any time.
Enterprises have been using Zoom for multiple purposes, such as meetings, hosting webinars/online workshops, and conference calls. Although alternatives to this application, including skype, google meet, and Appear.in, are available; Zoom continues to be the most trusted and preferred program. This application is coming up with cool features wherein users can change their background pictures and also switch between portrait and landscape modes.
Gusto HR
Many enterprises struggle with running the payroll for their employees. Number crunching, managing various systems, and filling out the paperwork can be taxing for the HR department. Gusto HR is the ideal solution to manage and optimize your company's payroll. It has an easy to use interface and enables automated payments to employees within a few clicks.
Gusto HR is essentially a cloud-based platform that provides employees with a Gusto account to access paycheck stubs, tax documents, and timesheets. Within the Gusto app, payroll tools allow enterprises to identify pay period dates, file payroll tax automatically, synchronize data with third-party systems such as Quickbooks and Xero, set up employee compensation policies, ensure compliance and automate payroll processing.
Sage
Sage is an ERP(Enterprise Resource Planning Software) and has three core products: Sage X3, Sage 300 cloud, and Sage 100 Cloud. Through sage, an enterprise will be able to control and manage the various functions in a business such as finance, production management, supply chain, and sales.
The main objective of Sage is to provide a single enterprise solution that can help businesses grow and manage their data. This product is highly scalable, supports multiple languages, and is simple to use. Sage offers customization in terms of screens, fields, and modular structures. This software is great for small and medium enterprises as it follows a monthly payment model.
Trello
Trello is essentially a visual collaboration software perfect for project management. It supports both group discussions and one-to-one communication. Trello's Power-Up Calendar enables team members to prioritize tasks based on the deadlines, assign last-minute operations, and display the progress. This application maintains a searchable database by adding labels and search filters that help you locate the needed files fast.
Read More : Simple Guidance For You In Android App Development
Sharing sensitive data through Trello is safe. This solution is designed with the highest security standards and utilizes a bank-level encryption mechanism to protect your data. Admins can set permissions and choose which boards need to be private on Trello. Trello integrates with public developer APIs, so you can simply connect it to any app/system, extension, or plugin from third – party.
Favro
Favro is a comprehensive collaboration software just like Trello and Monday. It is known for transforming any enterprise into an Agile business by encouraging all departments to work together. This application becomes a common platform for planning and documentation. Favro focuses on game development and creative content developers in particular.
This application has the most intuitive dashboard that displays team member profiles, workflows, and real-time figures from your office. Employees can also create their own personal to-do lists to define their tasks and perform them more effectively. The time tracking features of Favro monitors the productivity of each team member and motivates them to complete tasks on time. Favro also offers multiple view boards, board templates, timesheets, and estimation fields.

Wave Accounting
Wave Accounting is the top free financial software developed specifically for small businesses. It allows enterprises to track expenses and income, track sales taxes, scan receipts, and send invoices in no time. Wavelets users connect different bank accounts and credit cards and start setting up profiles to effectively keep a record of revenue and expenditures for multiple organizations. In order to make tax time simpler, the app organizes accounts, receipts, and invoices and also provides robust reports to help track cash flow patterns.
From Wave's dashboard or mobile app, users can design and send professional invoices. For regular clients, the invoicing program can set up recurring invoices and automatic credit card payments and synchronizes invoice and payment details automatically with its accounting software.
The above applications are the best of all the major types of enterprise software applications including communication software, ideation software, accounting software, human resource software, project management software. You need to evaluate these applications in terms of their time tracking capabilities, documentation sharing features, resource management features, file storage, budgeting, and project management features. As an Enterprise, you also need to examine your requirements based on factors such as organizational size, tasks, projects, and processes for which automation is needed.