The global app revenue grew 32% year-over-year in Q3 2020 to more than $29 billion and the explosive growth is expected in the coming years.
It's gearing up budding entrepreneurs to make the most out of the billion-dollar mobile market by shaping the unique mobile app idea into a full-fledged solution.
One of the most popular customer questions that app developers have to deal with sounds as "how much does it cost to develop an app for business?" This question is also among the most confusing ones, as it's hard to give a simple answer to it.
The problem is that, on average, the cost of making an app varies from $2000 to $250 000 depending on what particularly you need. That is why no developing company will ever name you a final cost without knowing all the details. In this review, we'll try to single out the factors that affect the price of developing a business app.
The Cost of Mobile App Development Worldwide
Let's appeal to an official statistic first. According to the research conducted by GoodFirms, the average cost of app development primarily depends on its complexity. For the sake of convenience, they distinguished three large groups of business applications:
Simple apps – $40 000-$60 000;
Medium-complexity apps – $61 000-$69 000;
Complex apps – $70 000-$100 000.
The average cost of developing per hour is $50. Logically enough, the final cost of an app depends on how much time its development requires.
At the same time, app development costs vary significantly from region to region and from one company to another. If you compare the prices offered by various developers, for example, in the USA and Indonesia, you'll see that the gap between the minimal and maximum costs can reach several thousand dollars.
Does it mean that the quality of a pricier app will be higher? Experts tend to believe that it's the developer's experience that matters most, not price. Let's take a brief look at average hourly rates in different regions of the world.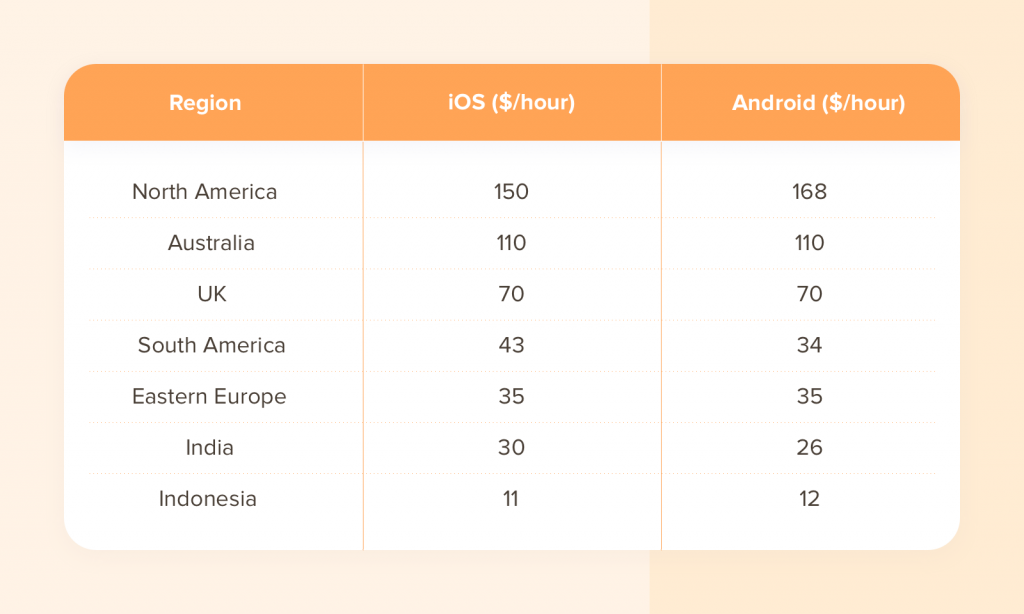 As you see, the gap between North America and Asia is impressive. A question arises: why on earth should I pay $250 per hour if I can order the same product 12 times cheaper? However, it's not all that simple. We'll analyze this question in the following sections of our review.
Pros and Cons of Outsourcing the Mobile App Development
Deciding between local development and outsourcing is, largely, just a matter of convenience. When you are dealing with local developers residing in your city, you can contact them face to face as frequently as needed. You can control the project on all stages and see intermediate results. However, the price for this convenience sometimes is unreasonably high.
When it comes to dealing with foreign developers, the main advantages of this approach are a large selection of companies to choose from and the availability of very budget-friendly offers. At the same time, you will face the problem of different time zones and lack of possibility of meeting the developers in person. It creates certain inconveniences, which are compensated by substantial savings.
Time and Money Ratio: What is the Real Cost of Making a Mobile App?
One of the key factors that affect the total app price is the time needed for its development. This, in turn, depends on the app's complexity. While modern mobile apps come in a variety of types, they can be divided into three large groups depending on the time of their creating:
simple apps – 500-700 hours;
medium-complexity apps – 700-1000 hours;
complex apps – 1000-1200+ hours.
Other Factors Influencing Mobile App Development Costs
Time expenditures are not the only thing that affects the price of your app. Before naming the final cost, developers analyze a range of variables and estimate their work using several criteria. Let's review the most important of them.
App development approach
First, you have to decide for how many platforms you want to get built the app- iOS, Android, or both. There are different ways- hybrid and native to publish the app for specific platform or both platforms.
Contrary to a popular belief, there's no significant difference between the prices for iOS and Android apps. That said, developing two separate applications doubles the app development costs. An alternative solution is making a cross-platform (hybrid) app.
The native development approach is preferred when the app leverage hardware-specific functionalities like- GPS, contacts, or camera to build certain features. The native development doubles the efforts to build two apps separately which automatically makes the development expensive.
Going hybrid way, the app developed once is ported on multiple platforms with little tweaks. React Native, Ionic, and others are the popular cross-platforms that enable building and marketing the apps in a reduced time.
Types of app development
The mobile apps also come in various forms according to market trends and business needs. For instance:
The business with basic features needs will get an app performing certain functionality on the device, which we generally witness as pre-installed apps on mobile.
The functionality app performs a range of functionalities.
The custom utility apps where a couple of features together address the problem that people are facing in day-to-day lives. For instance, M-commerce shopping apps.
The data-driven apps leverage user's data to deliver the best experience to the users when they use the app. This type of app is a little more complex with the addition of GPS, AR, VR, and AI technology.
Game apps are gaining optimal popularity worldwide depending on the UI, UX, uniqueness, and appeal that the app offers.
Feature Set
The functionality of a future app is the main thing to consider, as it affects the price greatly. While there are some basic features that can be found in a vast majority of applications, the number of extra fields, screens, sliders, and buttons, varies from one product to another. In the chart below, you can find the approximate time and cost for developing basic app features.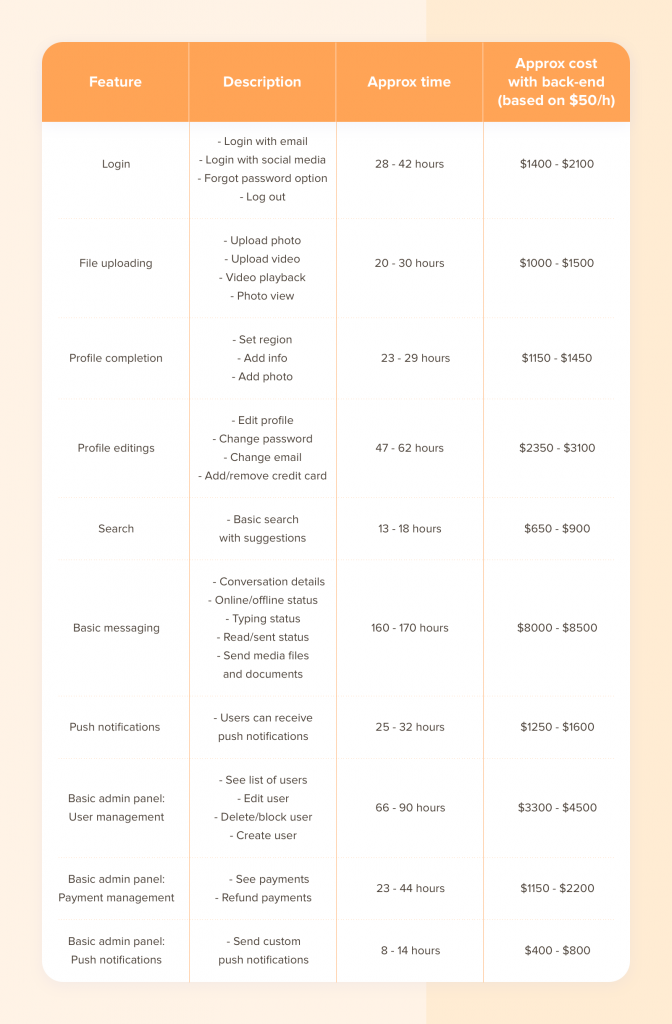 The list of extra features can be rather extensive, so we'll touch upon just some of them. Here are some examples of what you may want to see in your app.
User engagement. This includes the type of user authorization, notifications, storing logins, passwords, etc.
Integration with social media profiles. Authorization via social media and such features as liking, sharing, and posting comments are common for modern mobile apps.
In-app payments. If you want your customers to make purchases within your app, think of how many payment methods you need, as each one will escalate the cost.
Access to native features of the phone. If your app must be integrated with a camera, NFC, Bluetooth or something else, it influences its cost also.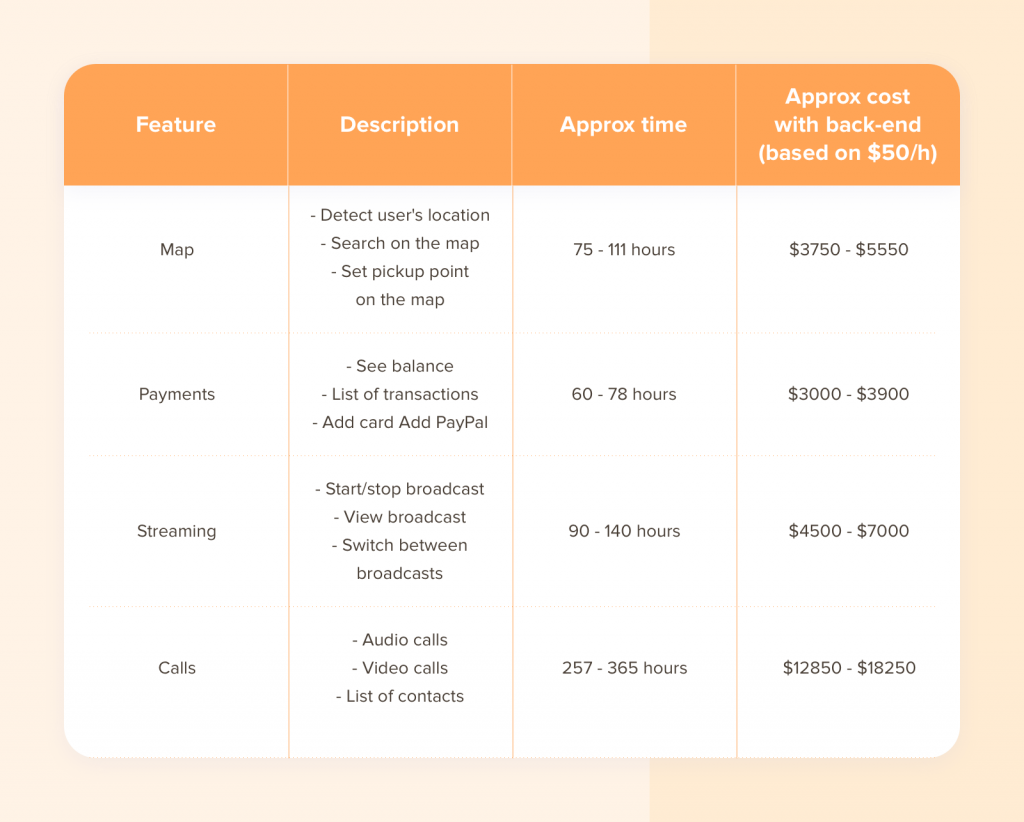 UI Design
If you want your app to be really unique and recognizable, you may want to create a custom design for it. Keep in mind, though, that making a unique user interface is always more expensive than using standard screens offered by the OS.
Backend Development and Administration Panel
The cost of backend infrastructure development depends on what type and amount of user data you are going to track and analyze. To monitor the data you will need a good admin panel. You can develop a new admin panel from scratch or modify an existing one according to your needs. The price will also vary in both cases.
A Developer Team: Location and Staff
As we've already mentioned, the country of developers' residence affects the total price significantly. However, the team structure is equally important. Serious developer teams usually consist of 6-12 narrow specialists:
a business analyst;
a UI designer;
a project manager;
a mobile app developer(s);
a QA (quality assurance) engineer(s).
Depending on the region and the developer team selected, you may expect the following hourly rates.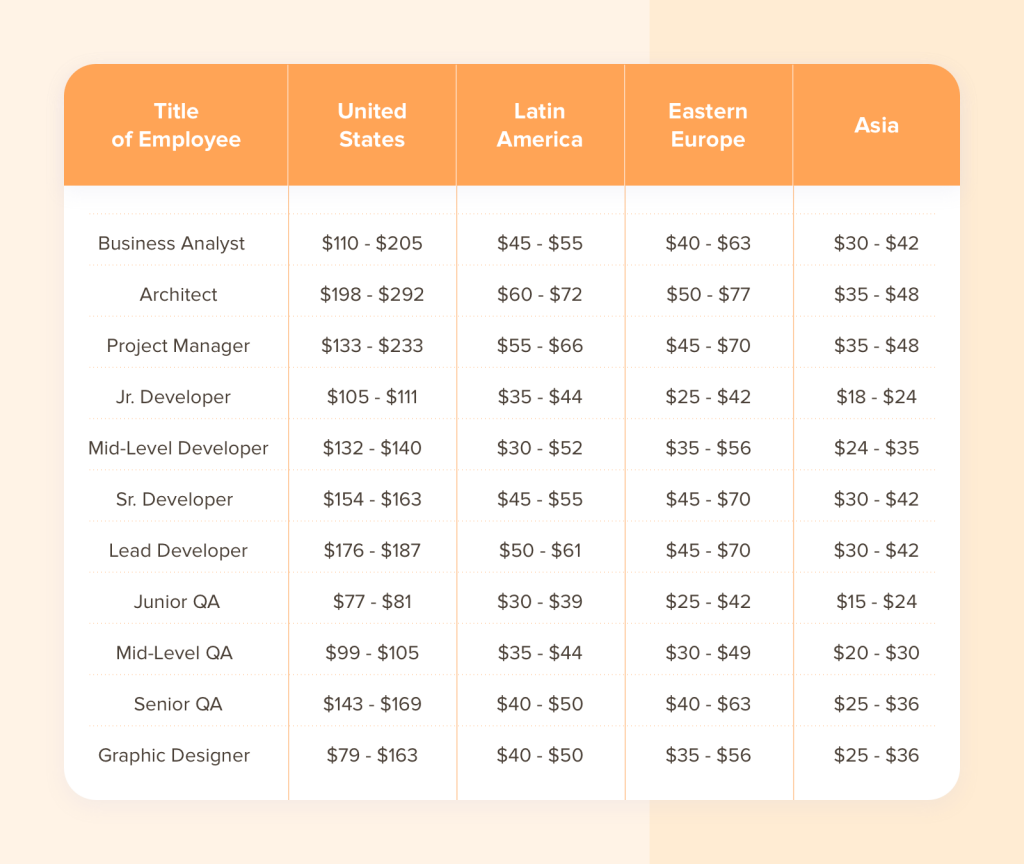 Maintenance Costs
Last but not least thing to consider is maintenance costs, which usually reach 15 through 20% of the total development cost. Applications are not made once and for all. They require constant upgrading, improving, bug-fixing, and adding new features. You will have to keep in touch with the developer team after the project is completed.

How To Estimate Mobile App Development Costs
The development process and, therefore, price, depending on the project complexity and number of specialists involved. At the stage of negotiating, companies make a rough estimation based on a customer's goals and requirements (it's free). In particular, they figure out what specialists will need to be engaged in the project and calculate approximate time expenditures.
After signing the contract, they go further and conduct a detailed analysis. Approximate costs of app development for iOS and Android are presented in the chart below.

Initial Investments of Popular Startups (Bright Examples)
Real examples of successful brands can serve as a source of inspiration for startupers. Also, they can help you understand the pricing policy better. Here are some great examples for you to consider.
The fulfillment of the Uber-like project required $200K of money infusions on the initial stage.
Instagram app development was estimated at $500K.
Tinder received $485K as an initial investment.
The cost of Postmates development reached $750K.
Snapchat got $485 in the seed round.
Efficiency and a profit-making capacity of an app directly depend on how much you are ready to invest in it. A good idea plus professional development work is key to success.