Do you know the fact that more than half of the buyers will first browse the properties online rather than going to a traditional real estate agency?
Yes, you heard it right! In this era of the internet, people are more comfortable with searching the properties online and that's where real estate app development came into the picture. The below-given image shows the way people are buying homes these days.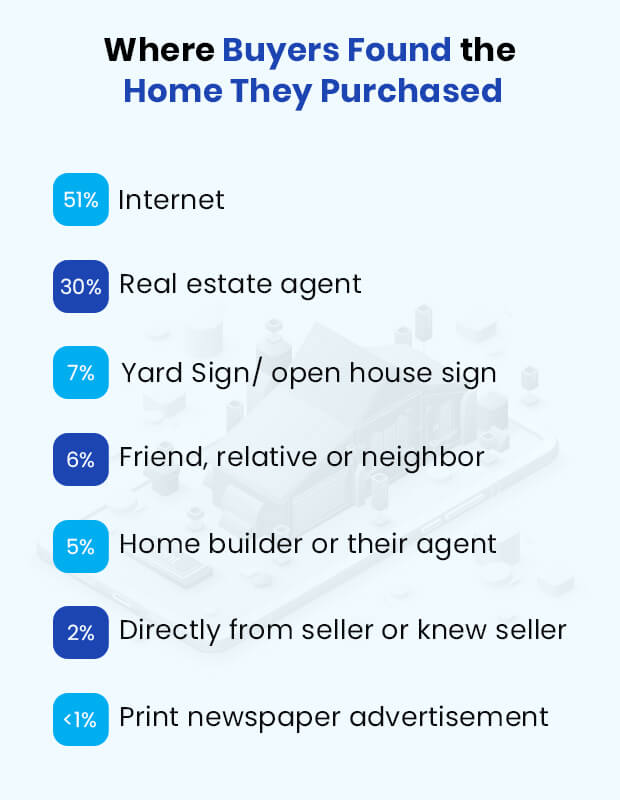 Looking at the current scenario and how buyers are searching for a property, it has become essential for the real estate agencies to go digital. All that the buyers want is to click on an application through their smartphones and buy their dream properties. A few popular real estate platforms available on the web are Zillow, Trulia, Realtor.com, Redfin, and more.
So, are you looking forward to building an application for your real estate agency? If yes, then in this article, we will be going through a few points that will help you to build a perfect real estate application.
How to Build a Real Estate App?
Well, to build a real estate app there are a lot of things to be taken care of. Here are the few steps that you can follow for developing your real estate app.
First and foremost thing you need to do is develop a business model for your real estate app. You can either follow the business model of some most popular real estate platform or you can just build your own.
Later, hire a real estate app development company to proceed with the further steps of app development. Here, you can make a list of a few top app development companies and choose the one which suits you best.
Choose the platform you want to build an app for. Research on your targeted audience and decide whether you want to build an app for Android or iOS.
The next one is the UX/UI designs of your real estate app. We would recommend you to never compromise with UX/UI designs of your app as it is one of the major aspects which decides the success for failure of your online business. People will come to your online platform for the second time only when they have got a good experience for the first time.
Choose the best in class features for your real estate app. In the initial phase, we would suggest going with MVP (Minimum Viable Product) and then keep updating the app with new features. Here are a few features that you can include in the real estate app development.     
Features of Customer/Broker App
Easy Registration: Register with the app through social media or manual login.
3D Property View: Users can view the property with the help of the 3D videos or models. This will help you to close the deal as soon as possible.
Calendar: Schedule the properties and get a reminder with the help of this feature.
Map View: With the help of the in-built map, users can know the exact location of the properties.
Easy Filters: Based on the filters, users can search the properties based on parameters, requirements, and more.
Profile Verification: Brokers need to verify their profile with admin before listing the property.
Add Property: Brokers can add the property with pictures, videos and detailed description for rent or sale.
Sharing Property: Users can share the properties on various social media platforms.
Push Notification: Get notification about new properties, sale or new bids on the property.
Mortgage Calculator: Users can calculator the monthly EMI with this feature.            
Features of Admin Panel
Add/Remove Property: The admin has a complete right to add/remove a property.
Verify Brokers' Profile: Admin can verify the broker's profile and thereafter allow them to add properties.
Reports & Analysis: Admin gets complete reports on a monthly or daily basis.
Manage Property Listing: Admin can have a complete overview of the properties listed on their platform.
Real-Time Analytics: This feature helps the admin to plan and make a decision for the business.
Manage Subscription Packages: Admin can easily make changes in the subscription packages of their platform.
These are a few important features that you can include in real estate app development. With all these, you can even integrate Ar/Vr technologies in the app. These technologies will enhance the user experience and will help you to close the deal sooner.
Besides the development, marketing about the real estate app and its launch is an important aspect. As people need to get aware of your online platform in order to get traffic on the app.
Here is a real estate infographic that explains the working of a real estate app. This will give you a better idea of the working of a real estate app.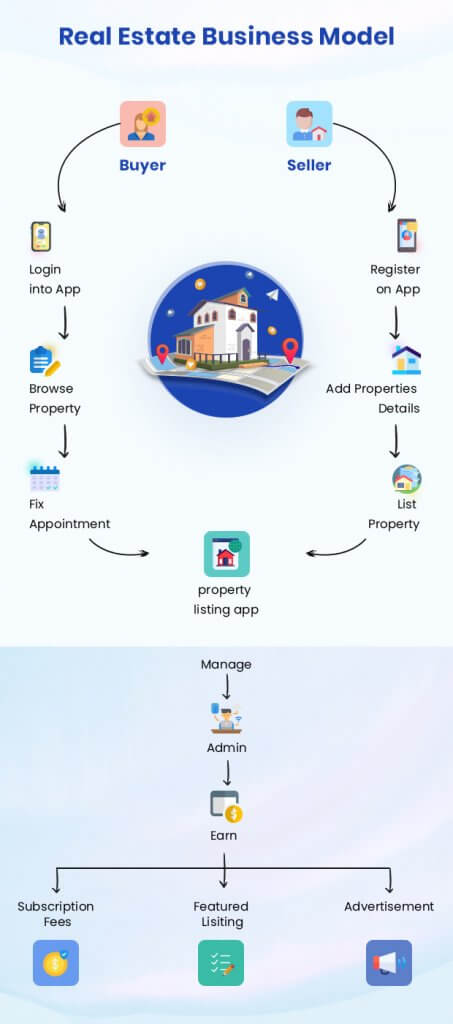 The Cost of Real Estate App Development
This might be one of the curious questions coming to your mind. Well, the cost of your real estate app development depends on various factors. Some of the important factors that may help you get the cost of app development are present in the below-given infographic.

Remember, these are just major factors which will help you to get the average cost of app development. But the exact cost will completely depend on your needs.
The Bottom Line
Real Estate is an emerging sector in terms of technology these days. The realtors are trying their best to enhance the user experience in order to close the deal as soon as possible. As the online competition is growing in the real estate field, developing an exclusive and user friendly app holds importance.
To get the best in class real estate app, all you need to do here is hire an appropriate real estate app development company who has experience for developing such apps. Your app needs to stand out of the crowd to easily get noticed by the users.
If you're looking for such a real estate app development company, then Nectarbits is the best choice for you. We have an expert team of developers who will build your real estate application as per your requirements. Get in touch with us for more details!