Augmented Reality (AR) technology project objects into a real-world situation and digitally transforms the insight of a person over various perceptible styles. It generates a correlative experience offering a merged vision of a digitally formed scenario and a person's real observation.
The use of AR in mobile apps started from the Pokémon GO gaming app. This article explains how augmented reality digitally transformed the retail industry.

Issues with conventional retail marketing:
1. Inadequate items
A common inadequacy of customary retail trade occurring frequently is items missing from stock and you have to visit other retail outlets to purchase them. It's a time consuming and boring process.
2. Capital to setup
An expensive investment like the setup of a brick and cement store also has some risk factors associated with it. Few or no customers mean definite loss resulting in closing the store.
3. Restricted working hours
Contrary to online shopping, retail stores have preset working hours. Due to a busy schedule, a person may not have enough time to manually search for the required items to be purchased.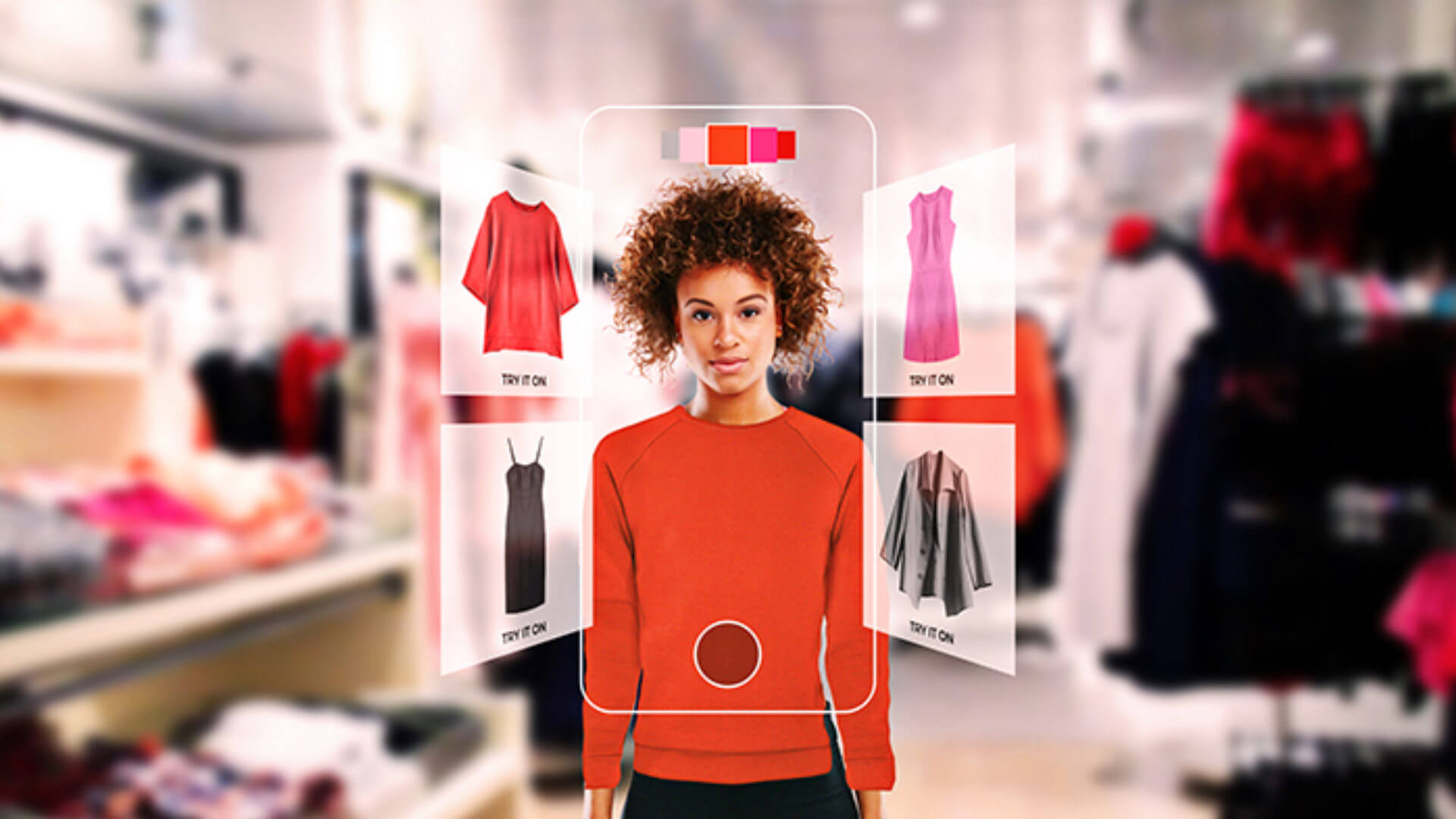 How augmented reality solutions digitally transformed the retail industry?
AR has an enormous impact on the retail industry providing numerous benefits. AR changed the retail scenario by reforming the procedure to make online/offline shopping convenient for people. AR benefited the retail sector by creating deeply engaging in personalized consumer experiences. Major advantages of AR usually observed by customers include-
1. Customized user content
Retailers repeatedly personalize user content to fulfill customer expectations. Retail stores filter content for individuals so that they can immediately look for the relevant items to purchase. The combination of AR and virtual reality (VR) presents complete retail solutions.
2. Simplified tryouts
Customers usually wait for their turn to come in the trial rooms where they can wear dresses and check the fitness. Using AR, virtual mirrors provide ease to customers in finding the size of dresses fit for them in front of a digital screen. It also occurs in online shopping. For instance, an AR-based retail app scans buyers face to position a pair of spectacles on his/her digital reflection.
3. Merges conventional retailing and online shopping
There are several retail outlets with enough crowds that make it difficult for a person to quickly buy the required items. One of the major advantages of AR in e-commerce is that it stimulates the similar enjoyable sensation of conventional shopping modes reducing inventory expenses and long queues.
Printed wares will continue to contribute a large portion in marketing and it's a key element of the AR marketing tactic. A customer gets all the required information of the items of his/her interest just by holding the smartphone over a specific image. Several companies have used this feature of AR in retail apps. For instance, 'The New Yorker' magazines have peculiar animations on the front and rear covers.
4. Enhanced brand awareness
AR helps companies to increase their brand awareness and get the products known to wider audiences. AR used for retailer marketing tactics imparts enough control to brands to discover resourceful ways for communications making a tunnel for immediate feedback.
5. Diminishes language barriers
Despite several languages across the globe, some language barriers are still there that are just brief. The AR mode of Google Translate helps people to view any of the 40 unfamiliar languages as their local language.
AR-empowered shopping apps categorize languages in various channels and in a way that they become understandable by people of all regions. It is a great way to let people know about the products and services of your company. In the case of printed catalogs, the embedded AR content guides users to select their preferred language.
6. Augmented return on investment (ROI)
AR technology is versatile enough to undergo r recurrent alterations according to the needs of retailers. It allows a retailer to provide remarkable facilities and earn much more than those who are only using traditional marketing tactics. It is correct both for m-commerce and e-commerce retailers.
According to Wikitude, around 32% of retailers use AR regularly, while 73% of mobile AR users are very much satisfied with their experiences. These AR retail statistics show that the market is exponentially rising with AR usage. AR retail apps are cost-effective and designed to provide an easy user interface.
Examples of brands that have a leading edge with AR:
The AR-based mobile app used by American Apparel drives massive engagement. A consumer can scan an image of the signage on her app yielding product particulars, shopper reviews, color variants, cost, etc.
Lacoste
The LCST Lacoste AR mobile app helps buyers to enhance their in-store experience through comprehensive product information. Using this app, consumers can virtually try the shoes and see them on display screens.
IKEA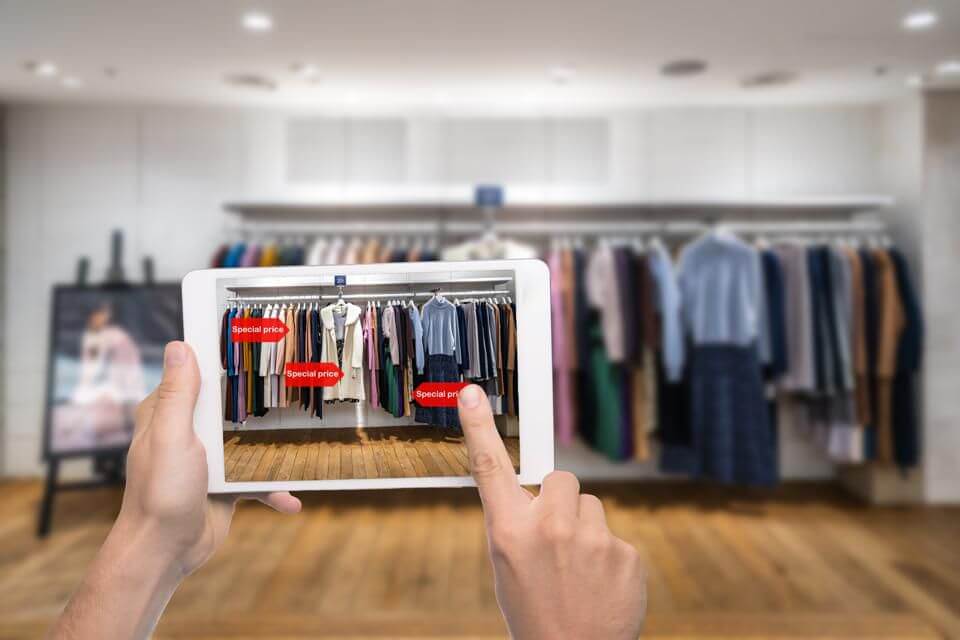 IKEA is well known for its furniture and electrical items shopping. Its app is available both on the App Store and Play Store. The AR technology used in this app allows users to scan a specific item from their mobile and then overlay that into their room picture.
Customers can also perform the same for their kitchen, lawn, hall, etc. It helps them to judge the overall look and fitting of various items at their houses/offices before the purchase. It also saves buyers time and energy.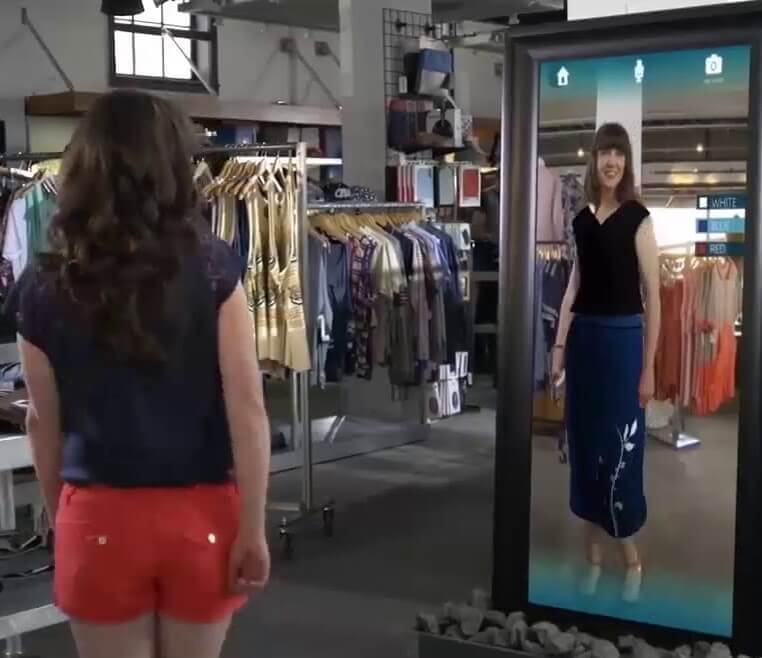 Topshop is a famous brand for clothing. Topshop app is an awesome illustration of creativity with AR. The shoppers visiting retail outlets of this company can see their digital reflection and have a trial of clothes they want to wear via reflective image.
The dresses chosen have frequent tryouts in the virtual changing rooms until buyers are satisfied with their choice. The app provides a remarkable shopping experience and also allows buyers to save and share their preferred pieces. Topshop app lets users scan the barcode and find the retail stores having the required stock.
The AR app of one of the finest cosmetics brands Sephora let s shoppers attempt on makeup before any purchase.
The AR of this cosmetic brand scans the face of a customer and displays the resultant image after makeup in a magic mirror before actual makeup.
Future of AR in Retail Industry:
AR-powered apps are used by almost all major brands in the retail market. However, the challenges in the AR e-commerce trade need to be handled properly to have a broader reach to audiences and hold on to existing ones. Despite the use of AR in offline and online shopping, aspects like publicity, localization, promotional offers/discounts, privacy, and user experience need appropriate concentration.
The sole motive of a marketing strategy is to generate higher profits. AR retail apps offer an interactive mode to customers to react with some physical motion. Retail stores rely on bilateral communication to boost their sales while the cost of embedding AR into retail depends on the extent to which a vendor wishes the brand visibility to be sensed.
Despite some challenges, the future of AR in the retail industry is bright and promising for higher revenue generation.
Conclusion:
AR provides exceptional and unforgettable experiences to customers along with fun. Its role is remarkable in transforming the retail industry and allows traders to establish their brand picture with interactive shopping experiences.