The prospect of creating a coffee app like Starbucks is great, with the company's mobile strategy, loyalty programs, and user-friendly features paying off tremendously for the business.
Hence, building a Starbucks-like coffee app for your business requires you to start with the essential prerequisites through the design and development phase before a grand market launch.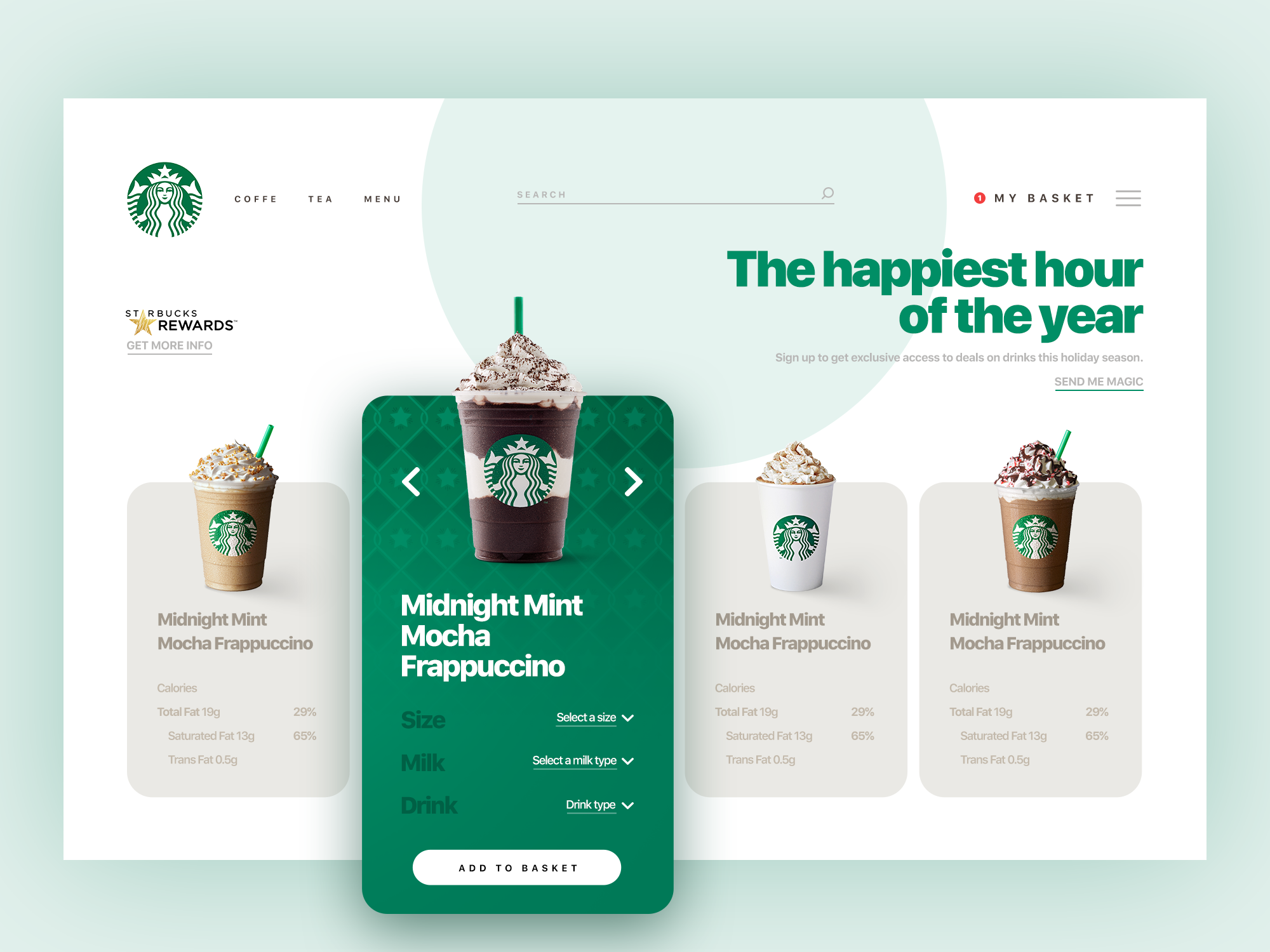 What is the secret behind Starbucks popularity?
We already know how big the coffee giant already is worldwide, but how did they gain this much popularity is the real question.
The company launched its order-and-pay mobile app in 2009. According to Statista, in 2018, Starbucks made about $24.72 billion in sales, that's almost twice the money they made before launching their tool.
Starbucks's loyalty program is the main attraction of their app. For every $1 spent, you receive 2 stars, and when you've collected 125 stars, you can redeem them for various goods available on the company's store.
Moreover, you also receive a free drink on your birthdays from the company.

The company has done a great job in creating quality customer relationships, customers get a free drink for every 12 stars collected, and you reach subsequent levels after collecting certain number of stars.
Even though there are other top names in the coffee making industry as well such as Dazbog Coffee, CUPS, Costa Coffee, etc., but creating a similar app to Starbucks is the industry standard set for newcomers in the coffee making business and aspiring entrepreneurs.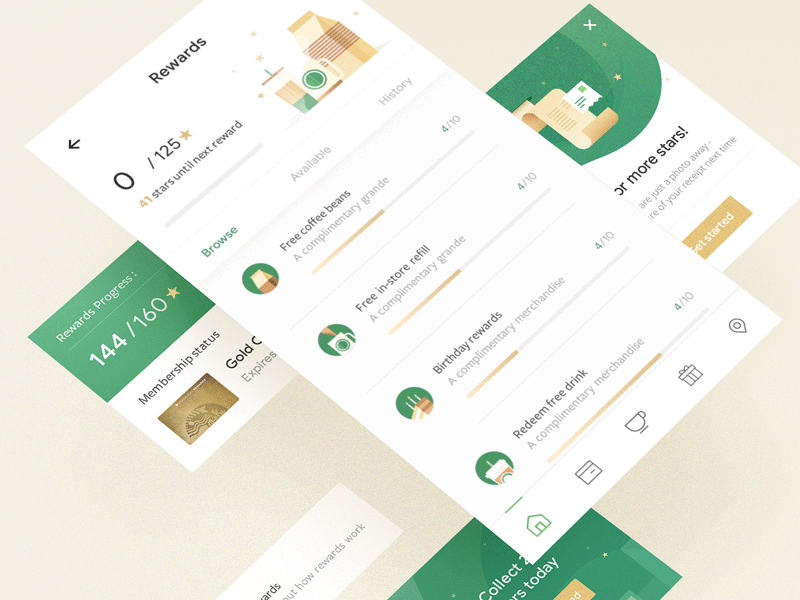 How to make a coffee app like Starbucks?
Let's disintegrate the entire process through a step-by-step guide and learn what it takes to develop a Starbucks-like coffee app for your business.
Information gathering and analysis
The foremost stage in the project discussion where every stakeholder needs to be on the same page. In doing so, you're answering some important questions like:
What is the problem the app will solve?
How it will solve?
What are the unique selling propositions?
Who is the target audience, their demographics, online habits, which similar ios mobile apps they use, etc.?
The revenue channels you wish to pursue
The discovery stage mostly revolves around brainstorming sessions where you talk a lot about the ongoing trends, conduct market research, and how to compete in the industry and achieve success.
Furthermore, you deeply understand your target audience, their needs and preferences and figure out if there truly is a demand of your app or not.
Yes, there are tons of coffee lovers out there, and so are your competitors already catering them with their orders, payments, and value-added features for a superior user experience.
Prototyping and design
It doesn't matter if you want to build an app like Starbucks, or any other tool, you need to create a prototype to see how your app will function and aesthetically look like.
A low-fidelity, or a navigation concept, will show you all cause-and-effect relationships between the mobile app's screens.
Then comes the user experience design phase which will detail how your users will experience and feel about the app after its usage. The UX design is required to create a high-fidelity product, which will then be released to a certain audience in the market or in the organization internally, to acquire feedback regarding its performance.
The final design stage will end with the UI, detailing the visual design and aesthetics of the application you're trying to make.
MVP development
Here you'll build an MVP, a minimum viable product, for an app like Starbucks with the following features.
Registration
Even through the quick registration trend goes through social media platforms, you'll find it more beneficial for users to create profiles in your app as well.
In-app profiles will help you in providing personalized offers and better data security through multi-factor authentication.
Mobile payments
Easy mobile payments are one of the major reasons why people love using Starbucks app. The e-wallet feature allows users to send payment through their debit/credit cards without any hassle.
Besides that, e-payment also helps users acquire loyalty program, points, etc. which they can later redeem for free drinks and different discount offers.
Menu
The menu bar of the Starbucks app is aesthetically designed to make you feel hungry and crave for their items.
Not only appetizing, but the menu is informative as well with information on display about food catalog with subcategories; item details with titles and pictures; search option; customizable options for choosing size, adding extra topping, etc.; and a CTA button for ordering and purchase.
Find a store
Adding a map in your application should be major preference. If you intend to open several stores, your users need to see the shop closest to them and also provide assistance in reaching the place.
Customer loyalty program
Starbucks's loyalty program is one of its biggest assets in building a loyal customer base. Consider adding terms of the program, tracking points, and redeemable points features to tempt customer in engaging with your app and continue buying.
Order pick-up
A pre-order feature is a life-saver for most users who do not wish to wait in endless lines for picking up their order during peak rush hours.
The order pick-up feature will permit you to place your order in advance and arrive at the time when it's ready.
Backend development
You need to understand that the backend development depends of various factors including the types of technologies used, number of features, app complexity, and number of screens.
After the development, QA and documentation testing is done to ensure the app is free of any usability, technical, and functional issues.
What is the cost of developing an app like Starbucks?
The total cost of developing an app like Starbucks depends on the cost incurred at each stage. This is how the cost should go:
Information gathering and analysis—80 hours
Prototyping and design—200 hours
iOS and Android development—250-320 hours per platform
Backend development—300-400 hours
QA and testing—100 hours
How much the development team charges per hour depends on their location. On an average, in North America, developers charge around $170, Australia at $110, Europe at $60-70, South America at $33, and India at $25.
At a holistic level, we can conclude that a Starbucks-like app will take around 1,000 hours and $50,000 for development.
Thoughts!
Developing a mobile application like Starbucks requires a team effort by both marketing and technical personnel; it doesn't matter if you develop in-house or hire a professional iOS app development company to do the job.
The idea is to put the right resources on the table, follow an agile approach, and be detail-oriented if you're to develop a top Starbucks app clone and make your name in the coffee making business.