The online pharmacy market in Europe is expected to grow at a CAGR of over 14% during the period 2019-2025.
The trend from offline to online pharmacies is growing in the regional markets such as France, Germany, Italy, and Spain due to growing internet penetration, high prevalence of chronic diseases, rise in self-medication, and improved awareness of online pharmacy benefits.
France and Italy have emerged as the established markets (Second and third-largest markets) that are contributing a significant share to Europe's online pharmacy market. The relaxation of regulations in Europe for OTC medicines' online sales has enabled Germany to witness steady growth with a shareholding of 56% of the market shares.
The pharmacy businesses across Europe are moving into mobile orbits to bolster the business with a strong online presence, increase sales, and strengthening customer relationships after looking at the people's growing preferences towards online pharmacy delivery.
Ready to step up the revenue game? Or still not convinced with building a custom pharmacy delivery app? If so, here we have mentioned the reasons that illustrate the importance of the medicine delivery app.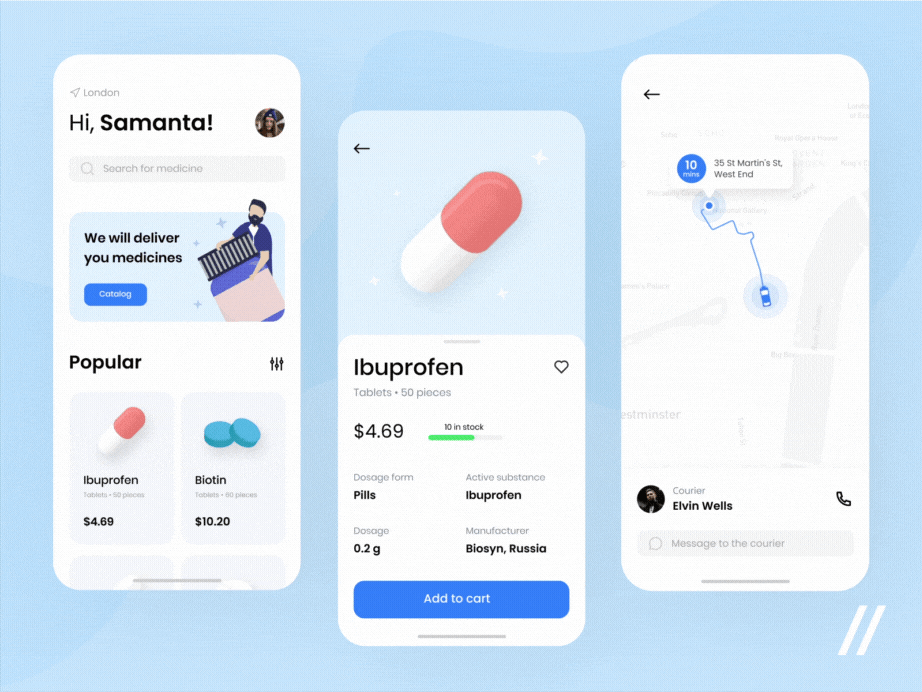 Take a sneak peek inside at- How vital the medicine delivery apps are?
Maintain privacy
People often feel uncomfortable buying some types of medications in front of other customers or the seller themselves. With online pharmacy, privacy is maintained and data can't be used or shared with anyone post-GDPR regulation enforcement. We ensure GDPR-compliant medicine app development.
Say no to waiting
Those who have experienced standing in long queues at pharmacies to buy the medicines, understand the real pain of it. The online pharmacy has busted the queues and a couple of clicks from the comfort of the couch allow the people to buy medicines.
Improved buying experience
Not just the people can escape from lines, but they receive notifications regarding extra discounts, or prescription refill reminder that delight and make the shopping experience awesome.
Hassle-free delivery
Buying from brick-and-mortar stores involves traveling cost, that's eliminated with online pharmacy shopping. It's very difficult for people located in remote areas, which has now become a breeze.
Push notifications
The online pharmacy apps excel in sending personalized messages to the customers based on the browsing pattern and purchase history. It makes the customers feel valued and helpful too.
Detailed info on medications
The information about every medicine including- date of manufacturing, date of expiry, components, side-effects, and other instructions are provided.
Prices are competitive
Rarely, the people get any discount when they buy from the offline pharmacies, but the situation turn upside down with online purchase. The customers get options to buy the same medicine from multiple vendors that are selling the medicine at competitive prices.
Hopefully, now you are convinced with the fact- how important it is to invest in online pharmacy development. Want to modernize your business by going online? Want to keep up with customers, competition, and technology? If so, it means it's the right time to move into the digital lane.

How can we help you build a pharmacy app?
At Nectarbits, the coding superheroes, design gurus, testing maestros, and marketing pros work together to build the best-in-class solution that helps pharmacies grow sales and revenue by leaps and bounds. The team has required expertise and rich experience in engineering the mobile-optimized pharmacy solution that performs to the notch. If you want to know about the technical aspects, the functionalities, intuitive UI, and interfaces, then click here to know what we did so far in detail.
We are most-preferred pharmacy solution development partner because of the economic development where Asian developer charges $30-$60. On the other hand, European developers charge $100-$150, which's quite expensive. If you want the app to get built at a fair price and from a reputed company, feel free to get connected with our consultant to know more.
What else can we do for you?
Social media marketing to go viral
Don't just whisper; instead, shout a little loud to get the word out socially. The social media channels such as Facebook, Twitter, Instagram, and Pinterest are the best platforms where user outreach is increased. Our social media marketing (SMM) experts can help you by creating social media marketing strategies for distinct platforms.
For instance, with good content posting regularly, we can help your business gain organic traffic. However, this approach takes time. On the other hand, paid social marketing such as Facebook and Instagram ads, can help you bring your targeted audience at speed for ordering the medicines.
Local SEO-optimization to improve business awareness locally
Getting your pharmacy searched by the local people holds a lot of importance because many times people search for nearby pharmacies on Google. That's why it makes perfect sense to list and update your business on Google My Business to get your pharmacy store found by the local people.
Also, you can list your business on local directories such as Yell.com, Yelp.com, and others to provide important information about your pharmacy. The second thing is to start blogging which's a powerful weapon, which has had helped in driving more leads and increasing conversion rate. The guest posting works wonders in improving the website's ranking and revenue.
Read more : On-Demand Subscription-Based Apps
Paid advertising for quality traffic
The good pharmacy website development with SEO-optimization is quite tasking. It involves a lot of effort and hassles. Creating the ROI quickly is impossible with an SEO-optimized pharmacy solution. The paid advertising has come out as the holistic solution that guarantees potential leads and an improved bottom line. Google ads, though an expensive option, turned out as the tool to bring quick ROI. Our marketers keep optimizing the ads and analyzing results so that you will get the maximum of what you have invested.
Support and maintenance services
Our job is not over with website development. We provide continuous support to the pharmacies so that the mobile-responsive website keeps working and performing as expected. Regular updates, functionalities enhancements, bug fixes, performance improvements, and required technical support are offered.
Conclusion
Across Europe, the large pool of patients favors doorstep delivery of the pharmacy products because of the efficiency of Pharmacies in reasonably-priced medicine delivery and increasing penetration of the internet. Despite, stringent regulations for prescription medicines online selling in Europe. However, the pharmacies have made up the things by complying with the various rules that can ramp up the sales and profits. It showcases that building a medicine delivery app is a good idea. If you confirm with the fact, get connected with our consultants that help you know how can help you from development and designing to final launch and marketing.