Are you interested in starting an on-demand errand services business? It would help if you had many questions in your mind like-
How to start the errand service business?
How profitable is it to start an online errand services business?
How can I develop an on-demand errand services app?
Have any of these queries, read this detailed guide blog to get the answers.
Imagine a Sunday Morning for which you planned to wake up late. Then spend the whole day watching Netflix with food ordered from Zomato. A perfect weekend, isn't it?
But one leak in your bathroom pipe ruined the whole day. You could not find a plumber to fix the issue, spent your whole day finding contacts of plumbers from neighbors or friends.
What if you had an Uber for errand services like UberEats and Zomato for food delivery? Now it is possible to have an Uber for home services.
The on-demand home services app is a solution to all the professional services people look for in their daily household chores. Home errands can be tiring and time-consuming. Working professionals with a hectic schedule always look for professional help.
So, take advantage of this demand and build an online errand services app in 2022. Read the blog to discover how to start an errand service and develop the on-demand errand service app. 
What is an Errand Service App?
An errand can be any task or chore. An online errand services app is an on-demand service that enables people to find professional help for errand jobs.
The task can be related to home, office, etc. For instance, house cleaning, plumbing, home shifting, painting, dog walking, etc. The popular errand services apps are TaskRabbit, Zaarly, Handyman, etc.
On-demand errand services apps offer a helping hand to people who cannot find enough time to do their home chores or errands. Either they can hire an errand runner for a whole to manage multiple errands or for hourly hours to get a specific job done.
What Are The Best Errand Business Ideas To Launch?
So, you have decided to start your errand services app. Now the first thing will be to decide on your niche. What type of errand services do you want to offer?
You can offer multiple homes or errand services via a single home services app. If you lack a huge professional workforce to provide multiple errand services, you can also choose a single niche and offer services online.
For instance, provide your expert services, senior citizen errands, home spa or beauty services, etc. Once your business and team grow, you can add more services to the app.
So, to help you with some ideas on errand services, we have listed the most profitable online errand business ideas.
Top Errand Business Ideas To Start in 2022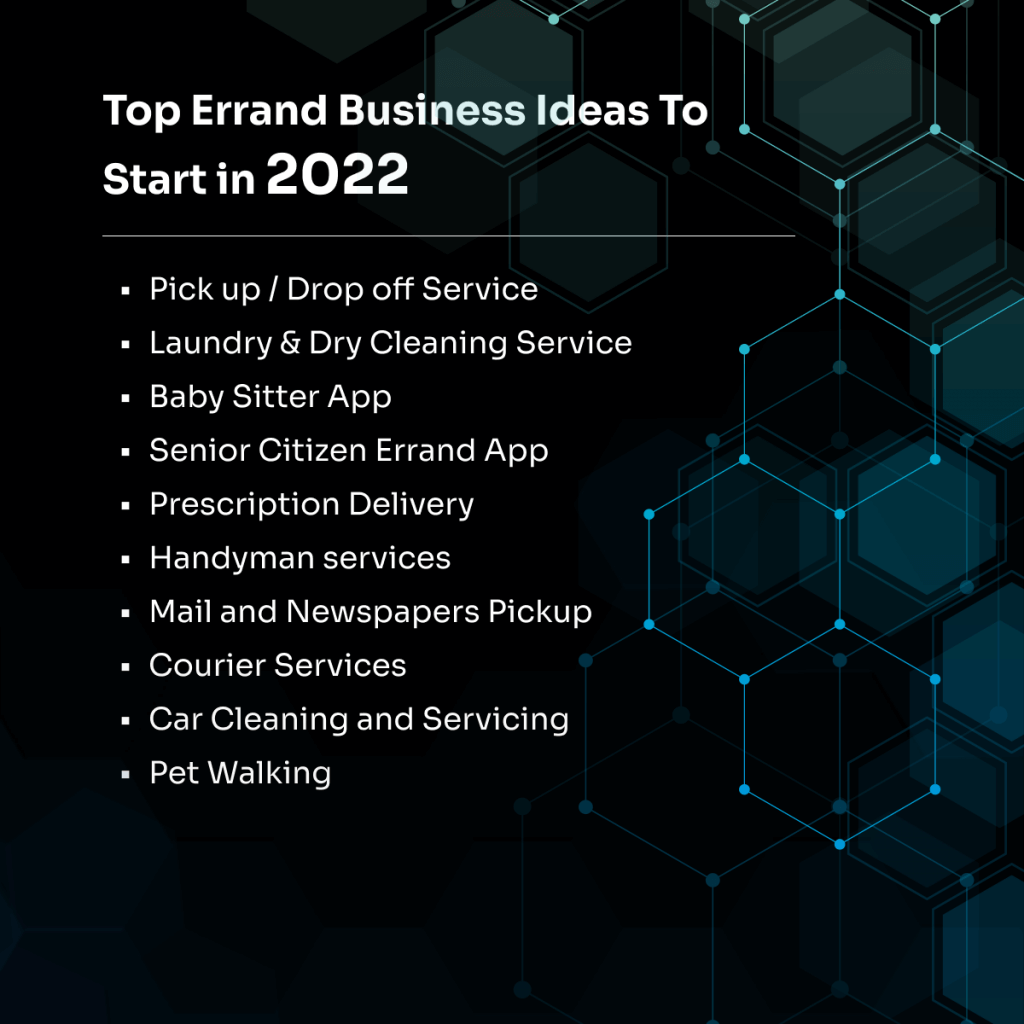 Pick up / Drop off Service
Laundry & Dry Cleaning Service
Baby Sitter App
Senior Citizen Errand App
Prescription Delivery
Handyman services
Mail and Newspapers Pickup
Courier Services
Car Cleaning and Servicing
Pet Walking
How Does an Errand Service Works?
The app users can search for an errand service they want to get done and check their availability.
They can post the task for which they seek help. The app will show the errand service providers, their experience, and their fee.
Once the user chooses a task provider, they will get a notification about the request. The errand service provider can accept or reject the request based on availability.
Once a service provider accepts the request, they will reach the user's doorstep to complete the task.
The users can pay conveniently via the on-demand errand services app online. The app supports payment modes like net banking, digital wallets, etc.
How To Start An Errand Service?
Pick A Niche
As we have discussed above, you must first decide the niche for your business, whether you want to provide multiple errand services or start with a specific niche.
Decide a Catchy Name
Decide a trendy and catchy name for your errand services business. Make sure to choose a name that is easy to remember and reflects your offer. Do not use jargon or complex words. People often forget or cannot remember such complex names.
Legal Permits
Before you start any business, it is important to get all the legal permits and licenses to operate the business smoothly. You can contact the local authorities or a lawyer to help you get the permits. Every state has different rules, and you will need documents and licenses based on the area or state where you operate.
If you have legal permits, it shows your business is authentic and legitimate. People immediately trust authentic services. Thus, you can increase your chances of getting more service bookings and loyal customers.
Business Insurance
Every business needs insurance to get cover for unlikely situations. Several insurances are available for different types of businesses and various mishaps. Based on your business risks, you can get your business insured.
App development
Once you finish all the initial things like selecting the niche, name, or legal permits, it is time to build the app to start your services online. You must connect with the top home services app development company to get your app ideas validated, designed, and developed. The developers also assist in launch and post maintenance.
Post-Launch Marketing
You have launched your app in the stores, and now you have to ensure that you get maximum visibility for your app. More visibility means more app downloads. For this, you will have to market and promote the app.
You can promote your app and increase its visibility by offering deals and discounts. For example, you can start promo discounts and referral programs to gain customers.
There are traditional ways to promote your business, like flyers and posters. But the most trending and effective way is to promote on social media. You can post about your newly launched top best home services app on social handles like Instagram, Facebook, Twitter, etc.
Revenue Model of the Errand Services App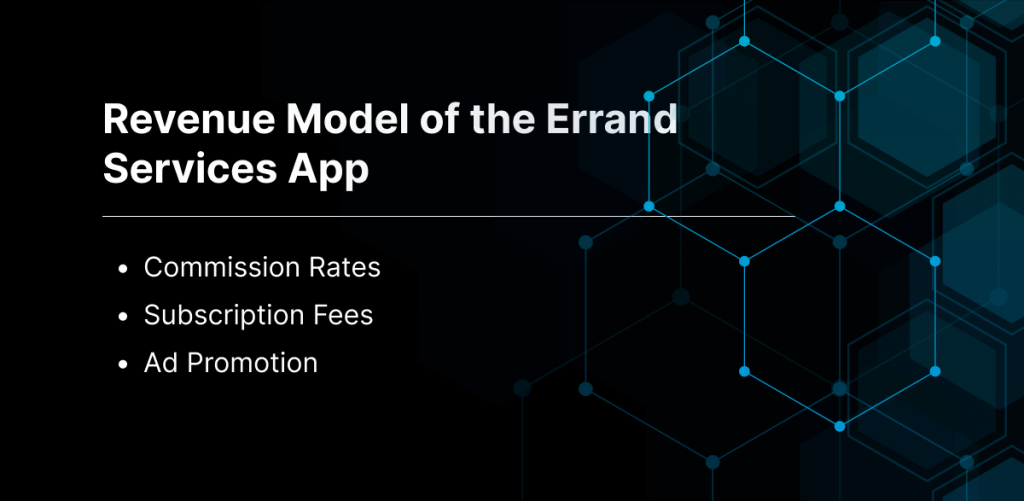 As an entrepreneur, you must be concerned about the various revenue models for your on-demand home services app. There are many ways to earn money through the on-demand errand services app. 
Commission Rates
The commission or services fee for the errand services is the major source of income. For example, you keep 12-15% of the total cost for the errand services.
Subscription Fees
You can provide the key features to your users for free and then ask for a subscription to unlock the advanced features. You can provide different subscription types to upgrade.
Ad Promotion
In-app advertisements are another great source to earn via your online errand plus and personal services app. You allow businesses offering similar services to run ads on your app. You can charge a monthly fee for your app's ad space. 
Conclusion
The online delivery and errand services business apps are here to stay as long as people will need help with errands. People's needs will never diminish, and they need assistance with errands. 
In the coming years, the need for on-demand errand services apps will rise only. So, if you plan to start your online errand services, this is a perfect time. Connect with Nectarbits– your reliable on-demand home services app development company, to get your app developed. 
Call us now at @+91 8000695266 to get a free consultation or a quote.