Here is an overview of the most popular Top eCommerce Platforms
Most of us love to do shopping. Right?
Retailers are stepping in with the most popular online shopping trend to increase customers, sales, and ROI.
That's why eCommerce revenues are projected to grow to $6.54 trillion in 2022.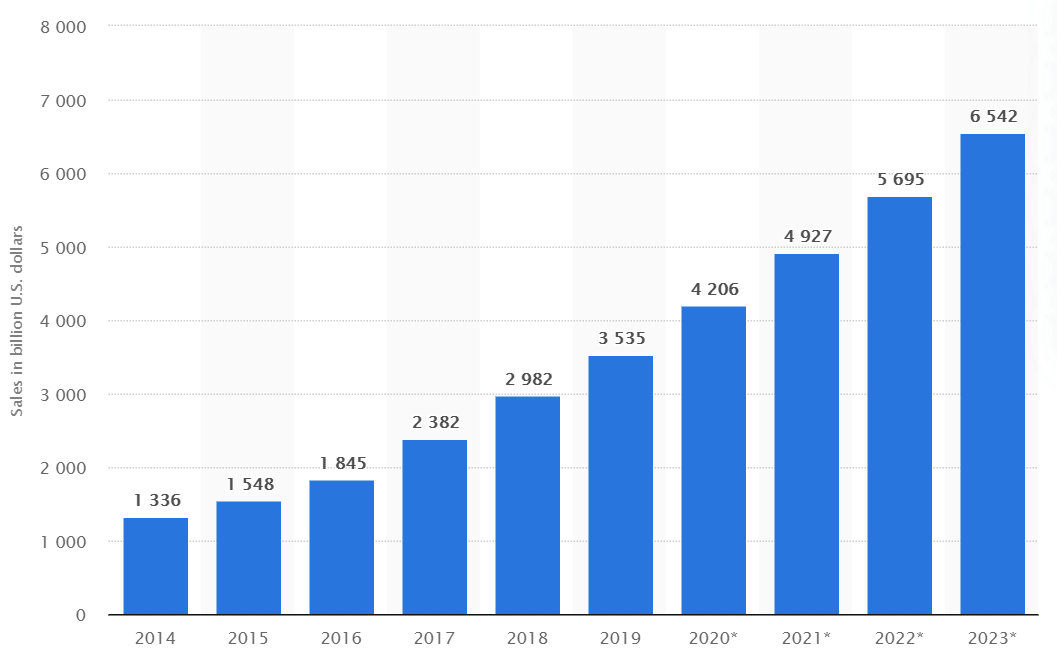 Presently, every retailer, be it small or large entrepreneur trying their hands to go online. But for small businesses, opening an online window is quite a task. Don't fret!
Technological progress has digitized shopping and has created a myriad of inexpensive and effortless options to build an eCommerce store. The Ecommerce platforms make things easy for SMBs. However, plenty of options muddies the water.
Consequently, a lot of questions popped up in my mind like- How are you going to select the best eCommerce platform? What are the things to look at before making any decision? What are the factors to consider when you communicate with eCommerce platform service providers? And much more…
Before choosing the best Top eCommerce Platforms you must know what is an e-commerce platform.
An eCommerce platform is one type of software application that allows an online business to manage its website, sales, and operations. You know that online store building from design to development is an expensive and cumbersome process, but now it's possible by eCommerce platforms. There are many e-commerce platforms that offer a reasonable plugin solution for businesses looking to build an online store.
Top eCommerce Platforms provide the following services are:
• Create a list of products for sale online
• manage payments, orders & inventory customer communications
• connect to social and marketplace sales channels.
NectaCart– The Ultimate Solution For Everyone
The single-vendor and multi-vendor marketplace is a great solution for SMBs and start-ups to large enterprises to get the store up and running in a couple of days. The platform provides everything from A to Z that Ecommerce designing, development, and deployment needs. The unique selling point is the platform enables admin and shop owner to manage the products and shops without internet connectivity respectively.
It's a brilliant choice for all businesses of different domains and sizes. It facilitates seamless integration with existing systems and multiple plugins to enhance the store's functionality.
Features
Product cataloging/categorization
Order management
Vendor service management
Reports generation
Modules
Promotion marketing
User management
Inventory management
Mobile access
Auto-update
Data security
Email marketing
CRM integration
Product Configuration
Multi-store management
Reviews management
Shipping management
BigCommerce – eCommerce Platforms
The main feature of BigCommerce is that makes it easy to set up and also manage your store when using a visual store builder. It builds stunning and easily integrates storefronts for Facebook, eBay, Amazon, and more. All while allowing you to provide payments, shipping, and available products. BigCommerce is a great place to start if you need to simplify the process by automating listings or security.
The benefit of BigCommerce Website Development
The best part about BigCommerce is its flexibility
Pure SaaS solution

Use BigCommerce with the CMS/site infrastructure of your choosing
UseBigCommerce as a commerce engine only
Shopify – Ecommerce Website Development
Shopify is one of the best and most popular eCommerce platforms for small & large businesses. Today, it has become one of the bigger brands for small e-commerce businesses.
The benefit of Shopify E-Commerce Website Development
A drag-and-drop store builder, with unlimited products, and over 100 custom themes.
Help listing on Amazon and eBay
a POS feature and Facebook and Facebook Store solutions.
Integrations with over 2,200 applications, including over 100 different payment gateways.
WooCommerce is the best customizable open eCommerce plugin for WordPress.It's the probably best option and most favorite platform for small businesses. The main features of WooComerce are easy integration with WordPress. WooCommerce has a broad offering of integration extensions and add-ons, for shipping, social and email marketing, product sourcing, and more.
The benefit of WooCommerce eCommerce Platforms
The biggest selling point of WooCommerce is its support
A large community of developers
A large variety of plugins makes adding any feature a breeze
Currently, Volusion is another best platform for small businesses serving over 180,000 business owners. It allows you to sell your products on Amazon and eBay and offers comprehensive SEO packages as well as social media management.
The benefit of Volusion E-Commerce Platforms
Set up a store within a few minutes, edit it whenever you want, and run it right from a single dashboard
Provides valuable feedback to business owners
Including abandoned shopping cart reports alongside a suite of reporting tools.
One of the cheapest platforms in eCommerce
Squarespace
The main advantage of Squarespace is offering advanced webshops for small businesses with simple e-commerce requirements. it offers beautiful store themes as well as provided inventory management, unlimited product uploads, coupons, shipping configurations, email list management, and many more services.
Benefits of Squarespace E-Commerce Platforms
Easy to create, accessible to anyone, and can be customized without any real knowledge about website creation
If your business wants a classic e-commerce platform without the integration of payroll, accounting, and other business management software.
A viable option for you at a lower cost than Shopify or BigCommerce.
Quick eSelling – Readymade eCommerce Platform
Quick eSelling is a fully managed and hosted eCommerce platform that allows business owners to create eCommerce stores for free. The platform is user-friendly and requires zero coding experience to build and launch an eCommerce store.
Quick eSelling has hundreds of ready themes and comes with multiple payment gateways. Also, it has a dedicated marketing dashboard that makes it easier to promote your online store's products
Benefits of Quick eSelling eCommerce Platform
Manage everything from a single CRM dashboard
Native apps for Android and iOS
Available at zero capital investment
Magento – Ecommerce Store Development
The scalable site builder has scored high popularity in the eCommerce landscape. It's backing the leading Ecommerce giants worldwide. The open-source platform comes in two versions- the Community version and the Enterprise edition.
The community version is a free version that offers a varied range of features that an eCommerce store requires. When the business wants to incorporate advanced features, then the Enterprise version (Premium version) works best for them. The platform is powerful enough to handle 80,000 transactions in an hour and can carry up to 500,000 products.
Wix – Free eCommerce Store Development
The website builder has gained enough traction in the last decade. With continuous improvements, it has become a promising solution for the rookie players.
The customizability, mobile responsiveness, social integration, live chat option availability, site analytics, drag-and-drop editor, and blogging features make it a reasonable solution to open the online storefront.
Weebly – Build a Free Website or Online Store Development
The easiest way of crafting an online store is provided by this platform. Even, an average Joe can develop the website with a drag-and-drop site builder.
Automated merchandising, online catalogs, gift cards, shipping options, and discounts are the coveted features that make the store complete.
Prestashop – Develop your eCommerce website with PrestaShop
The open-source, cloud-hosted platform is serving global customers since 2007. The software comes in two versions- free and paid versions.
The free version allows the businesses to customize the website but for more enhancements, the businesses may need to consult web developers. Also, the hosting services and SSL certificate lacks in the premium version. On the other hand, the paid version at the monthly price of $28 provides everything to the businesses that they need. The supportive community of the PrestaShop is an add-on.
Ecommerce Mobile Development & Ecommerce web Store Development cost 2021
Once you have chosen the right eCommerce platform for your small business, the design & development part comes next! Build out your website or online store, upload your products, and get to selling. But a question about How much does cost to build an e-commerce website or online stores? In India, the price is even as it costs approximately $500 USD- $1000 USD to get an eCommerce store created.
For the creation of a full custom eCommerce website & mobile app which has all the features in it, the price might go as high as between approx $17,000 to $25,000. Otherwise, The cost of an e-commerce website might cost you $2500-$20000 depending upon the complexities of your project.

If you want to know about e-commerce web development cost and other information then checks out here:
Final Note
In the last, find the right E-commerce platform then make the best online eCommerce store or website which boosts your eCommerce sales and improves your business.
If you are looking best eCommerce website development company then NectarBits offers optimum quality custom eCommerce website design & development services that help you grow revenue and profit quickly.