Introduction
Are you a car wash and detailing service provider planning to benefit from the surge in the car wash industry? Worried about How Much Does Car Wash App Development Costs in 2022? Read the blog to know the exact cost and features. 
Like other On-demand applications, the online car wash app has become essential to the everyday lives of those owning a car. 91% of US households own a car. They need to get them washed each or every alternate day. In such a case, it becomes difficult for them to take time from their busy and hectic schedule to visit the detailing center. They need a convenient solution to avoid long waiting queues for their car washing or servicing.
The on-demand car wash apps are a great relief as people can get the car washing services at their doorsteps. They just need to tap on their smartphones' mobile car wash apps. So, the demand for make a car wash app has surged immensely.
Statistics
60% of people in the USA use on-demand car wash apps. On average, people spend $5.8 billion on car washes.
The car wash market will reach $37526.01 million by 2029 from $29,394.3 million in 2021, expected to grow at a CAGR of 3.1%.
35% of the customers say they prefer eco-friendly service and can pay more for the same.
What are the different types of Car Wash Apps?
Before we find out the cost to build a car wash app, you need to decide what type of car wash app you want to invest in. also check out how to start a car wash business from scratch.
Single Dedicated Apps
Consider you are a car detailing service agency owner and want to Build an On-demand Car Wash App like MobileWash, Washos, Petro car wash app. In that case, the single dedicated app model is for you.
Developing a custom car wash app in india will benefit you in many ways. You can expand your service and reach out to your locality. As many people can find you online through the app. Thus, you can increase your benefits.
Car wash Aggregator Apps
Under this model, you can create a car wash platform to connect users with car wash service providers. You can let car detailing service providers register their agencies to provide their services. As the app owner, you can charge a commission from each detailer or service provider.
So, once you have decided on the model you want to go for, next comes the essential features to make your online car wash app in 2022 successful.
Key Elements and Features of On-demand Car Wash App
Developing an Uber-like car wash app includes three panels- Customer App, Detailer App, and Admin Panel.
Customer App
The customer app is for users looking for online car wash and detailing services. The customer allows users to find nearby car detailers and browse their services and costs. They can compare the prices, book car wash services, and give feedback. Moreover, they can pay online via the Uber-like car wash app.
Features:
Register/ Sign Up
Browse/ Search Detailers
Check Availability
Compare Prices
Book/ Schedule Car Wash Service
Online Payments
Review & Feedback
Detailer App
The detailer car wash App is for car detailers or service providers. They can register on the app and list the services they provide and the prices. The online car wash makes it easy for detailing service providers to get new appointments and also manage them.
Features:
Register
Add Service Location
Accept/Reject Requests
Push Notifications
Manage Payments
Admin Panel
The admin panel is the dashboard for app owners where they can manage and monitor the entire app proceedings. They can track and analyze the information of the registered users on the app. Further, they can monitor the activities of various car detailers on the app.
Features:
Manage User Registration
Manage Payments
Manage Reviews
Manage Service Time Zones
Manage Notifications
Manage Promotions
So, now you know the features required to develop the white-label car wash app. But the cost of developing a car wash app includes more than features. Let us have a look at other factors that affect the cost.
What Other Factors Affect the Cost of On-demand Car Wash App Development Costs?
Right Technology Partner
One of the crucial parts of the car wash app development process is the technology partner. You must choose a top car wash app development company that can create a unique car wash app for you. 
The geographic location of the best car wash app developers majorly impacts the car wash app development cost. Since the hourly rates of top car wash app & software developers vary from country to country, you need to be mindful of your budget before making a choice.
You can hire dedicated car wash app developers full-time or at flexible hours based on your app needs or budget. The average hourly rate of a dedicated mobile app developer in India is $25-$50. Whereas, in the USA or Europe, the cost ranges from $80 to $150 per hour. 
You need a team of the best car wash app developers, designers, and quality assurance engineers to make on-demand car wash applications from scratch.
Frontend/ Backend Developers
UX/UI designer
Android or iOS App Developers
Quality Assurance Engineers
Technology Stack
The next factor affecting the car wash mobile app development cost is the choice of the technology stack. It would help if you choose the right technology stack to make a robust and powerful car wash app.
The technology stack involves the platform you want to build your app-iOS, Android, or cross-platform like flutter, react native. The frameworks and libraries, third-party integrations, etc., form the tech stack for your online car wash app.
Technology Stack used for car wash app:
Platforms: iOS, Android, or Hybrid
Languages: React native, flutter, ReactJS, NodeJs, ExpressJs
SMS or Phone Verification: Twilio, Nexmo
Backend: Schemaless & MYSQL
Email: MailChimp
Payment Gateways: PayPal, Braintree, and Stripe
Database: Postgre, MongoDB, LevelDB
Cloud: AWS, Google
Real-time Analytics: Hadoop, Big data, IBM, Apache Flink
UI/UX Design
The car wash mobile app design time frame and cost of designing a mobile car wash app frontends or interfaces play a significant role in the cost of make a car wash mobile app. The interface designs should be attractive enough for users to download the mobile app. Secondly, it should offer easy navigation to find and use the app features.
So, these factors will form the cost of building Top car wash applications.
Top Players in On-demand Car Wash App Market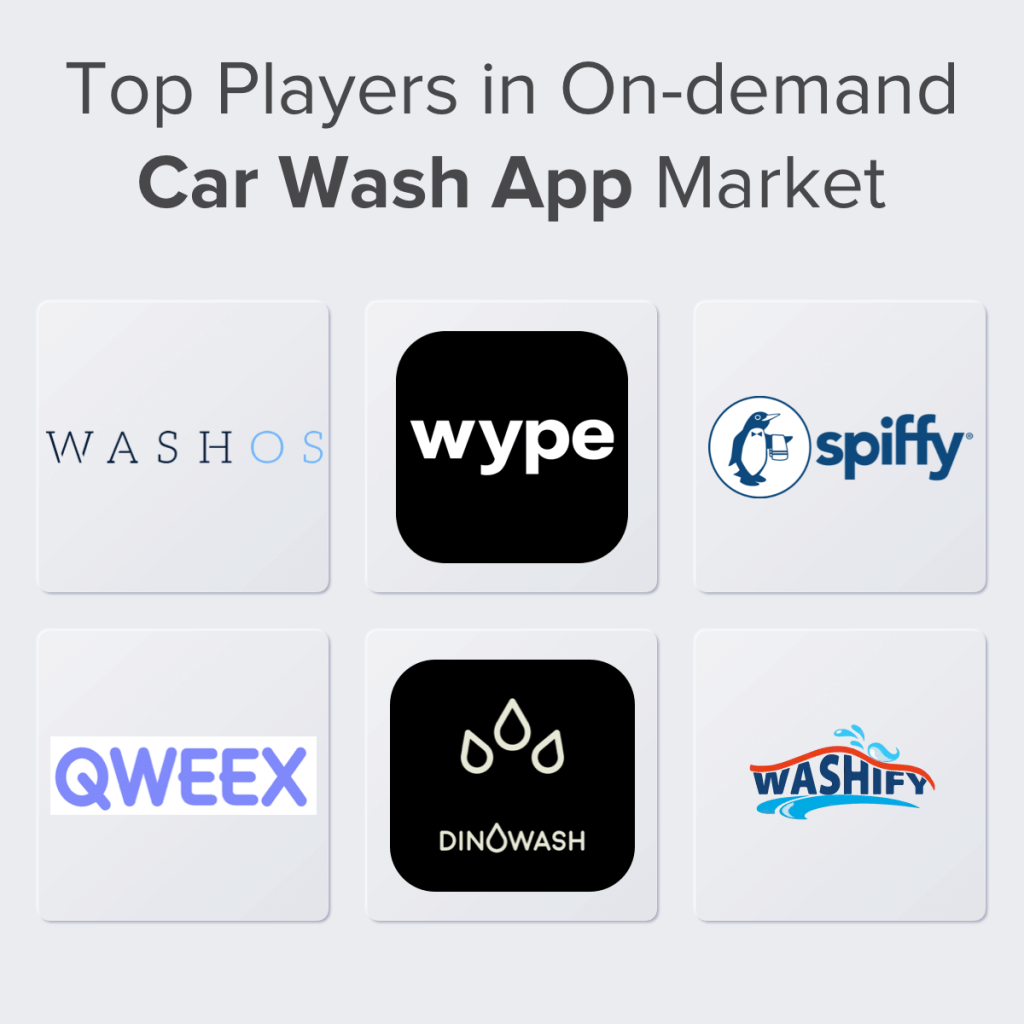 How Much Does It Cost To Build A Car Wash App
The cost to create a custom car wash app involves many elements. We get the exact cost when we multiply the time to create each app element with the developer's hourly rate.
Particulars No: of hours
User App : 310
Washer App: 300
Admin Panel: 250
UI/UX: 80
Quality assurance: 130
Idea Validation: 40+
Prototyping: 50+
Backend: 150
Total Hours: 1310
(approx)
So, as an entrepreneur, if you decide to build an MVP version of car wash app- the average time is between 1300-1500 hours. Let's take the developer's hourly rate to be $25.
So, the custom car wash app development cost will be between $25,200 and $40,000.
The car wash app development cost will depend on the features, the app development team, the time involved in developing an app, and more.
Conclusion
A custom car wash app involves developing the app from scratch, including the features, designs, technology stack, etc. Building a full-fledged car wash mobile app takes around 2-3 months.
Nectarbits is a leading car wash app development company in India, the USA, UK, and Germany with over 12 years of industry expertise. We create custom car wash applications. So, call us now @ +91 8000695266 to get a free consultation or a quote.