How to Create the Best Order Confirmation Email
Many marketers often perceive email marketing as the way it is without even exploring its other marketing capabilities. One feature that most marketers and business owners do not know to be very beneficial is the order confirmation email. Many ignore this critical component of an email marketing campaign.

Email marketing is considered one of the oldest tactics in digital marketing, yet it remains valid until this day. Many businesses and even startups still rely on this strategy making it one of the cores of online marketing. Email marketing can always provide impeccable results and an approach with the highest return of investment; email marketing is unbeatable with a 4400% ROI. However, the use of email is more than just for promotional messages.
Emails can also be an excellent way to strengthen relationships, retain brand awareness, and improve revenue through confirmation emails. But what is an order confirmation email, and why does it matter?
What is an order confirmation?
Order confirmation emails are the types of emails sent by a store, mostly eCommerce stores after a customer completed an order or transaction. This type of email comforts and reassures your customers that their transactions went through. As your website can provide confirmation when a purchase has been completed or successfully made, email confirmations are follow-ups that most customers expect after every transaction.
Aside from orders, confirmation emails can also be used for many purposes. Whether someone made a subscription in your mailing list, made a booking for your services, or a customer left something in their cart, the confirmation email can be used to reach and connect with your target audience.
What Is Included In The Order Emails?
When your customers click the "Complete Order" button, they entrust you that whatever product they purchased from your business will be sent on their way. To make sure that your order confirmation email is sufficient, here are the things that you should include in your format.

1.       Order Numbers – Also called the reference number, this set of numbers is essential for customers. They can use order or reference numbers to check on their orders should they have any concerns, questions, or issues. They are usually asked whenever a customer contacts your customer service representative or chat support. The best place to put your order number is at the top of your email so your customer can easily see it.
2.       Customer Contact Details – This should include the name of your customer, their phone number, billing address, and the shipping address if it's a physical product. However, you have to note that some of your customers may have the same address for billing and shipping, while others may request different addresses. In your order email, make it possible for your customers to verify their shipping address details. This way, it will assure them that their package will arrive at their preferred location.
3. Order Summary – This part summarizes what your customer has ordered. It includes even the most specifics, like the name of the product, color, size, and picture. It should also have the SKU of the product, the quantity of the order, and the unit price. If the product was already shipped out, you could already include the tracking number.
Read more : How Much They Cost: Employee, Freelancer, or Agency?
4. Cost Breakdown – This is an essential part, as this will show transparency towards your customers. Buyers usually avoid the hidden cost, and once you charge them without them knowing, they will take it against you and refrain from making any transaction again with you. This part of your email confirmation should contain the cost of the product, taxes applied, shipping fees, and savings from coupons or promo codes if there is any.
5. Payment Method, Shipping Method, And Delivery Date – Aside from the order summary, these are what customers usually look for a confirmation email. The payment method should be indicated to let your customers know how they were charged. Shipping and delivery date assures your customer that they will eventually receive their orders. These boost their confidence in your store or business.
Include in this part how you will ship the product, either standard, priority, or overnight shipping, and make sure to include the carrier's name. It is also essential to let your customers know when the product is expected to leave your warehouse and how long it will take for the product before reaching the customer's address. You should also include the estimated date of arrival so your customer can manage their expectations.
6.       Company Contact Information – If you are purely an eCommerce store or even if you have a brick-and-mortar store, you must provide contact information for your customers. They should be able to quickly contact you should there an issue arises, or they want to make changes in their order.
What is the purpose of the order confirmation?
Many of your customers receive dozens of promotional emails daily. Chances are, these emails are never opened or will only take about a second or two before being deleted. With the influx of promotional emails, order verification emails usually stand out among the rest. Studies show that this type of email typically gets the highest open and click-through rates.
What business owners and marketers do not realize is how significant the order verification email's potential is. It can be one of the most essential parts of your business practice.
Proof Of Purchase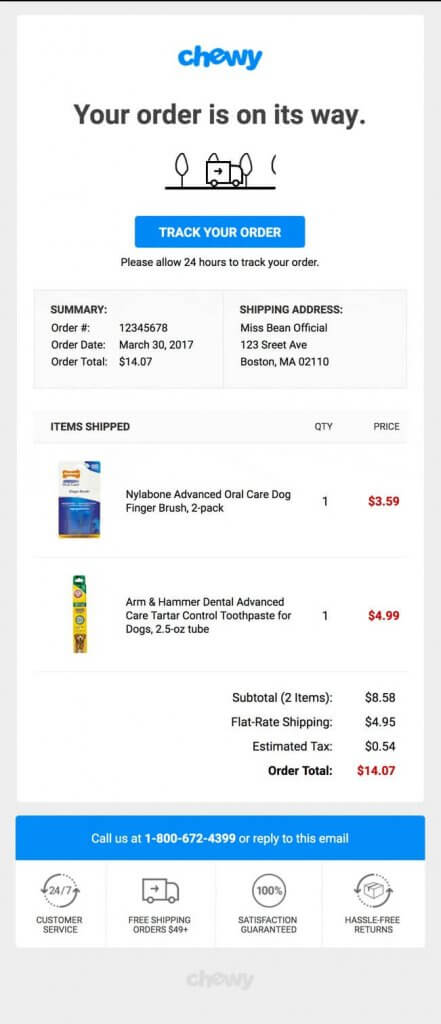 Your customer has leaped on their faith to complete a transaction even without seeing your product offers, an order confirmation email is reassuring for your customers of their recent purchase. It can be frustrating to order a pair of jeans, a couple of shoes, or the latest gadget accessory then receives nothing.
2. Brand Awareness
Aside from being a proof of purchase, an order confirmation email can be a good brand awareness tactic. Since promotional emails often get neglected and deleted, this type of email is often opened and read by recipients. This move increases your business' retention to your customers and improves your brand awareness.
3. Increase Revenue By Upsell And Cross-sell
While most only view confirmation emails as part of the after-sales process, it can increase your revenue as part of your marketing strategies. Aside from providing all the details from a recent purchase, order confirmation orders are a great avenue to upsell and cross-sell to your customers. You can upsell or cross-sell to your existing customers by offering relevant products or services to their recent purchases.
4. Boost Your Social Media Channels
Including your social media buttons on your order confirmation email is a great way to drive people to your social media accounts. You can ask them to follow you, like your page, or even share their recent buy. It can improve your followers' count and allow you to stay connected with your customers.
It means that you will stay on top of their minds, and your social media contents can always spark their interest, making them a suitable audience for your re-marketing campaigns.
5. Recapture Abandoned Carts
Though your customers have already checked out and completed a transaction with you, chances are they still have something left in their shopping carts. A confirmation email is a great way to recapture your audience's attention and remind them of their abandoned carts. You can even give them discounts or coupons to make sure they finish their orders.
6. Improve Sales Through Post-Order Discounts
Customers who are usually price-conscious will not miss out on a good steal even if they just made a recent purchase. Offering post-order discounts can be an effective remarketing tactic. In your order confirmation email, you can include a discount coupon that they can use on their next purchase. To make it more effective and to encourage your customers more, set a timeframe for your voucher.
Final Thoughts
Order confirmation emails are messages that customers are more likely to read than promotional emails, yet many marketers do not bank on this strategy. As a business owner or a marketer, now is the time to include this type of email to your online marketing tactics to help your business improve brand awareness and revenue while maintaining a strengthened relationship with your existing clients and prospects.