Every mobile app development company aims to produce scalable solutions for its clients. There is no task in the world an app can't do. From online shopping to online banking, the mobile app development sector has transformed digitally. A mobile banking app commits to fulfill you're your banking needs in one go.
There is no need to stand in line anymore at the bank to deposit a cheque or transfer cash. Staying ahead of the competition is important to survive in this tech-driven age. A successful banking app provides a convenient and more comfortable way of banking to your users.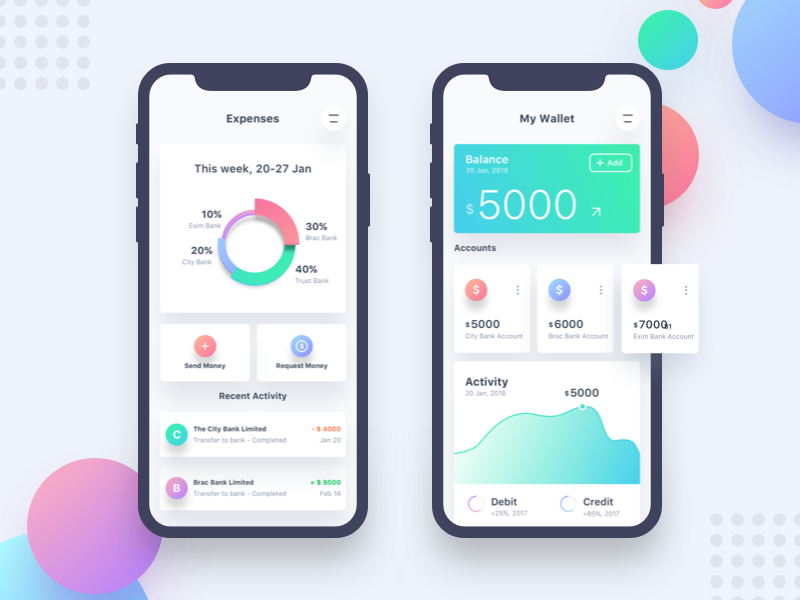 How Do You Develop A Successful Banking Application?
A successful banking app also allows users to save their valuable time and energy when the bank offers a reliable and quick banking experience through its application. A marketing strategy is an important part of your company's growth, and a banking application contributes significantly to the whole plan. Setting the app on App Stores on Android and iOS can feature your application and generate leads and prospective clients. But to do that, coming up with a solid plan is necessary.
Identify the Right Audience
Before you even begin developing a banking application, it's crucial to figure out who your target audience is. Remember, your banking application is a massive part of your marketing strategy; therefore, keep in mind the application is not only for your customers but also for teenagers and millennials looking to deposit their cheques instantly. Not only can it help you secure your potential clients, but it also allows you to reach a global audience.
Comprehensive market research is necessary, not just to find a target audience, but also to identify competition, find out potential methods to dominate the market, and app development cost figure out what attracts your target audience.
Keep the Application Simple
Banking appears to be a very complicated business, and sometimes requires a lot of time for employees to illustrate the easiest transactions to their clients. A lot of time is needed to study and understand the principles of the business. Complex mobile banking applications, undoubtedly, pose a risk of losing clients and consumers if they are not able to accomplish their banking goals quickly.
Usability and simplicity are important factors to consider when building a fast and straightforward UI. One of the ways to integrate simplicity in your banking application is to add fewer features inside the app, so the user doesn't get confused.
It's necessary to realize that not everybody who utilizes your application would be up to date with the latest technology. Therefore, you need to make sure that anyone who uses the application is capable of accessing it comfortably. Going with a simple UI is ideally the best way to develop your banking application.
Maintaining Security Standards
One of the major concerns of mobile and web banking is the security of such platforms. Many people prefer to go to the bank instead of banking online due to security reasons. Integrating strong security protocols inside the application for your users and clients should be your top priority as users will be putting their personal information and details in the app, risking their money.
You should make the most of the latest trends and technology available and consider it a priority to update the banking software at monthly/weekly/daily intervals and informing your clients about the gravity of the situation. It would help if you also considered integrating an encryption software in your application to make it difficult for hackers to access your client's banking information. Set up a log-in screen for your clients to log into the application before inputting their banking information.
Many banking applications offer a log-in page to allow their clients to access the application for additional security. Each data is secured by two-factor authentication, data encryption, and automatic timeout, logging the client out after a certain time of inactivity. While this seems extreme, your clients will be assured that their banking information is in safe hands.
Create a Simplistic UX
The performance of your banking application must be quick and efficient. Otherwise, you may lose users. The UX of your application is an important factor to consider when building a mobile banking application since it leaves an impression of the efficiency of the bank. If your app have a terrible UX, the glitches and bad functionality will be enough for the user to delete the application.
Check Out app : DNS ASSOCIATE | Expenses Software & App
Furthermore, it is important to provide a push notification function within the application to make sure all updates are delivered on time, and the user is notified about the debit or credit activity inside their account. In fact, you can also keep your consumers aware of bogus offers, email, and spam calls.
Check The Development and Testing Phase
Lastly, after successfully designing the UI as well as the UX of the app and integrating top-notch security inside it, it is now time to begin testing it. Making mistakes is necessary to learn. Especially in the tech industry, each mistake accounts for a greater error. It's your job to learn from it.
Every mistake, especially when developing a mobile banking application, can help you understand the cause, prevent it, and overall offer a better experience to your clients. Once your application is deployed on the market, it's necessary to keep track of what the users are doing, how often they are using the app, and what their feedback is.
Read more : Creating Apps that Makes People Financially Smart app Solution
It will help you on a large scale, since you will be using this data to fix bugs inside your application and improve the UI, to make it faster for your clients to accomplish what they want to do. Implementing new features in your app has also proven to generate leads. Listen to your users, come up with a plan, and deliver results!
Build Your App Now!
The development of mobile banking applications is not an easy thing to do and certainly not cheap. That being said, developing a successful banking application will generate leads, attract potential clients, and produce a high ROI.