Brilliant On Demand App Ideas for Start-Ups to Launch in 2022
In the wake of the corona outbreak, by force or by choice, people have started spending more than 90% of their time on mobile browsing. The lockdown and social distancing measures have compelled them to buy products or services online.
From a business perspective, it's a golden opportunity to make bundles with on-demand app development. It's so because from job professionals and small businesses to brick-and-mortar stores woes are deepening with huge layoffs and reduced footfall to the stores. The on-demand landscape witnessed skyrocketing success across all industry verticals.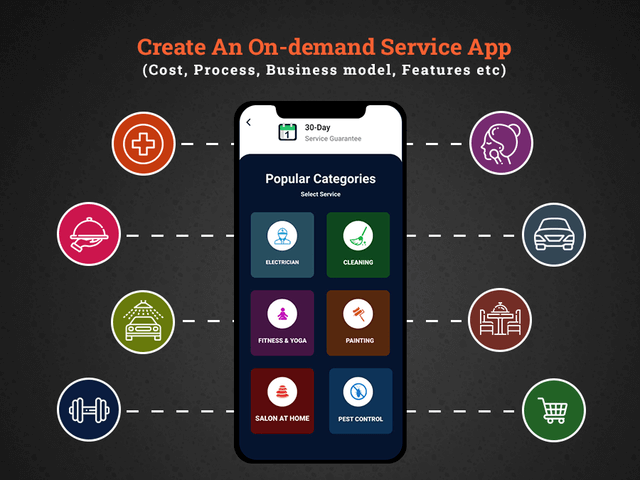 What Is On-Demand App Development?
The on-demand apps are service platforms that connect service providers with the people seeking services, and vice-versa. It meets the instant gratification need of the customers while eliminating the middle-men interference
. The apps have scored high popularity in terms of standing up to the customers' expectations and meeting the needs of the individual.
Which Trends Guarantees That Choosing An On-Demand App Idea Is A Good Choice?
The mobile apps are projected to generate double revenue in 2023 from what it's generating in 2019, that's $935 billion.

The insane figures ensure the bright future of on-demand applications. As an entrepreneur, you want to make the most out of the opportunity. That's why our on-demand app development specialists and business analysts collaboratively come up with a list of On Demand App Ideas that help you make billions.
Top 21 Innovative On-Demand App Ideas That Takes Your Business To The Next Level.
Uber-like travel app Idea
The on-demand application concept emerged with an Uber-like taxi booking app that is now used worldwide. There are various on-demand travel apps available in the market such as taxi booking apps, shuttle service app, cargo app, logistics apps, bus booking apps, corporate taxi booking, truck booking, bicycle booking apps, and more. Check if your territory is left untouched with such on-demand services, you can try your hands with MVP with basic features.
Online Fashion Store Development
Buying boutique and fashion accessories online is all the rage. In the pandemic time, if you opted to sell on mobile, you can win more users than offline. The on-demand fashion app development is the best option for individual fashion stores and fashion store franchises to manage the products and sell on mobile through a single dashboard. The user-friendly design and advanced functionalities make the high-end solution bring winning upshots to the fashion businesses.
The global fashion market is expected to reach $672.71 billion in 2023 at a CAGR of 11.48%.
Health & Fitness On Demad App Idea
The hospitals and clinics struggle with patients, doctors, and staff management. The e-healthcare solution provides uber-like healthcare services, facilitates service tracking, custom analytics dashboard, in-app chat, rate and review system, and pretty more. Also, the owners can seamlessly manage staff job assignments, schedule shifting, and data sharing from diagnostic centers and labs to HCPs. The patients can book, reschedule, and cancel appointments, and even, track the service status along with real-time alerts.
The health app market is projected to grow at a CAGR of 27.54% to reach US$20.556 billion by 2026.
Online Pharmacy Store
When you are ill and couldn't visit the nearby pharmacy store to get the prescribed medicines, then you are in trouble. That's where prescription delivery start-ups get major traction. The on-demand pharmacy delivery apps provide easy access to drugs, OTC drugs, and healthcare goods securely and quickly. It enables local pharmacies and retail pharmacy chains to build an online pharmacy network, increase user outreach, centrally manage inventory, and increase sales with zero intermediary interference.
The global pharmacy market is estimated to grow to 107.5 billion by 2026 with the increased prevalence of smartphones and tablets.

Beauty Salon App Development
The people spend haphazardly on spa and salon services, but again, the recent crisis has made them stay back at their homes. Here, an on-demand salon app development solution is an unbeatable idea that allows individual salon professionals or salons to offer salon services at the place and time that users want. The profitable business model help salon to make huge profits and save experts' time. The digital makeover of the salon up the salon's appointment booking and revenue game.
Local Dating On Demand App Development
Tinder-like dating apps that allow users to find the best match for the date are making billions. The on-demand dating app development with basic features such as geolocation, matching, chat, social integrations, location-based feeds, blocklist, chat, and profile view allows users to search for their partner based on their interests. It instills confidence in the introverts to date and chats with a person without being judged for beauty, or personality. The credit system, advertisements, and gamification are the ways to capitalize through the app.
Flower Delivery On-Demand App Development
Greet your closed ones with flowers and bouquets delivery is a common phenomenon, but it's difficult in the corona times. The on-demand flower and bouquet delivery application help flower businesses to sell flowers and bouquets on mobile and meet the instant flower delivery, midnight flower delivery, and uber for flower delivery needs. Modernizing the traditional trend of sending flowers will turn the sales and ROI table upside down for the flower delivery businesses.

Food Delivery App Development
The online food delivery app solutions have witnessed huge growth during pandemic times. The online food ordering trend seems to continue in the years to come. The budding entrepreneurs, restaurants, and restaurant chains can mobilize the food delivery game to meet the online food ordering need of the target users. The on-demand food delivery application allows your users to satiate the taste buds from the comfort of home and enable food businesses to expand locally.
House Cleaning Services Solution
Gone are the days when people prefer to complete household chores on weekends. The on-demand home service apps reshaping the traditional home services such as cleaning, dusting, plumbing, appliance repairing, deep cleaning, and more. The app helps customers by eliminating the need to search the reliable home service providers and avail of the services at their fingertips. Also, the handyman businesses get more exposure and service bookings.
Dabba Wala apps Developer
You must have heard Mumbai's dabbawala that helps people enjoy homemade food at lunchtime in the office even leaving the home early in the morning. That's where the on-demand dabbawala app facilitates delivery of the tasty homemade cuisines packed in the lunch boxes to the office space in a few clicks. Such apps are gaining traction because it allows working people to stay healthy with homemade lunch collected from home and delivered to the office.
Laundry App Development
After a long weekend, cleaning the laundry and getting them ironed is quite a task. Even, finding reliable laundromats, sending laundry, and timely delivery is equally full of trouble. Here, an on-demand laundry solution resolves the problem with the easy pick-up of dirty laundry and timely return after dry clean and iron. It helps laundry businesses build credibility, smoothly manage orders and staff, and make customers happy with a speedy checkout.
E-learning App Development
E-learning app has gained momentum especially during the pandemic time when all the academic institutions are shut down and students have to mandatory learn at home. There are various e-learning apps such as online study material, tutoring app, quiz conducting app, language learning app, and voice translation app that allow students to learn and better understand the concepts. Plus, the visuals create more impact on students rather than text and images, which skyrocketed the e-learning app's popularity.
On-Demand Grocery App Development
Instacart app has experienced a 200% increase in downloads and sales during the corona crisis. The case is no different with Walmart and Apptopia apps, which make grocery stores migrate to online platforms. Various on-demand grocery delivery apps have emerged in the market that has facilitated same-day delivery, order tracking, personalized recommendations, online payment, and doorstep delivery. The machine learning, cloud storage, and artificial intelligence technology leverage in grocery apps have made grocery shopping a breeze for customers.
On-Demand Fuel delivery App Developer
In the mobile age, where people expect everything at their fingertips. That's where customers' anticipation for fuel delivery anytime, anywhere is no exception. The on-demand fuel delivery app solution facilitates the people to only enter the amount and quantity of fuel, date, time, and address, and make payment on mobile, and fuel gets delivered at the doorstep. It eliminates the repetitive visits to fuel stations and standing in long queues, which makes customers happy and pays more for on-demand fuel delivery.
Packer Services App
The packer and mover apps are a great help to the professionals who get frequent transfers from one location to another. The stress of packaging and then transporting to the new place is reduced by a great extent through the on-demand packer app. The rookie players can start with this concept to assist the customers in relocation through mobile bookings.
Alcohol Delivery App
A beverages party is a way to socialize with friends, but if the minibar at home run out of favorite drinks at midnight, then you are in big trouble. That's where the on-demand liquor delivery app provides easy access to liquor and brands from the comfort of the sofa along with convenient purchase and effortless tracking. It helps liquor and beer businesses to improve online visibility, optimize sales operations, facilitate targeted marketing, and generate analytical reports.
Real-time Chat App Development for Ecommerce Store
The people have zero tolerance for message app that takes more than 2-3 seconds to deliver the message. Instant messaging apps like- WhatsApp allows people to send and receive messages in real-time. The on-demand instant chat is made interesting with a multimedia introduction, voicemail facility, and video calling enablement. The live chat app works seamlessly across all the platforms to deliver the best chat experience to the users. The chat is encrypted end-to-end that ensures robust security and keeps the conversation confidential.
Ridesharing App Development
When you are traveling to a distant place and need to hire a taxi for one person, it's expensive for you. That's where you find a person who also wants to travel to a place that is in the same way. Here, sharing the ride help you travel at a reduced taxi hire price. The ridesharing app is built on the same concept. The algorithms automatically accept the passengers' booking requests looking to travel to the same place and allow them to travel at a reduced cost.
Local event Management Services
When you visit a place, identifying the list of events and activities occurring on a particular date and time is difficult. You need to connect with a locale or search database to find out the same. The local event app comes to rescue that showcases the list of events occurring in a city with all the details for different dates. Also, the app facilitates online booking at ease.
Fitness Trainer Services
The people are more health freaks today. They use fitness bands and fitness applications to keep track of calories burnt, BP, heart rate, glucose level, and other things. Even, the fitness app act as a gym trainer, dietician, fitness coach, and running expert. The fitness app development not only helps people to stay healthy but digital ventures keep the fitness business financially healthy too.
Summing it up
You got so many On Demand App Ideas. If you are an entrepreneur or start-up who wants to launch a million-dollar business that brings ROI in abundance, then on-demand app development is the best idea. Select the app idea, identify your target audience needs, research competition, and then partner with an on-demand app development company to get build and launch your app.
If you are looking for experts for any of the app development ideas, connect with our business consultant to get the required assistance or help.