The most awaited iOS 15 OS that is set to release this fall publicly, its eighth beta version is rolled out. The eighth version of iOS is released for developers and we expect the general release soon. With continuous refinements, the iOS 15 version is jam-packed with new features added, a couple of tweaks to existing features, and removal of those that are no longer required.
Take a sneak peek inside at iOS 15 eighth beta version
What's added?
Focus- an advanced filter
The new feature aims to minimize distraction when the user is busy with an app. The tool named Focus filters home screen pages and notifications depending on what users like to focus on at a particular time while allowing urgent notifications in between. When users' Focus block the incoming notifications, the status showing the user is unavailable currently gets displayed to other users.
The on-device intelligence helps in suggesting Focuses to determine which users and apps should notify them during office time, personal hours, and sleeping time. also, if required the users are allowed to create custom Focuses that show specific home screen pages and apps during busy hours followed by the interruptions of important notifications. They can set responses for the messages coming during Focus that are automatically sent to the users.
SharePlay in IOS 15
The newly added feature enables users to share the experiences such as Apple TV music, movies, TV shows, and others during Facetime video calls. Media is played in rhythm for all the users in a video call with playback controls and any of the users are allowed to play, pause, stop, add to shared queue, and skip the content of the SharePlay session.
SharePlay extension to all Apple devices and its integration with third-party apps such as Disney, Hulu, and others allow users to watch movies on large screens during facetime calls. The smart volume control features auto-audio adjustments so that users can listen to each other even when the SharePlay session is going on.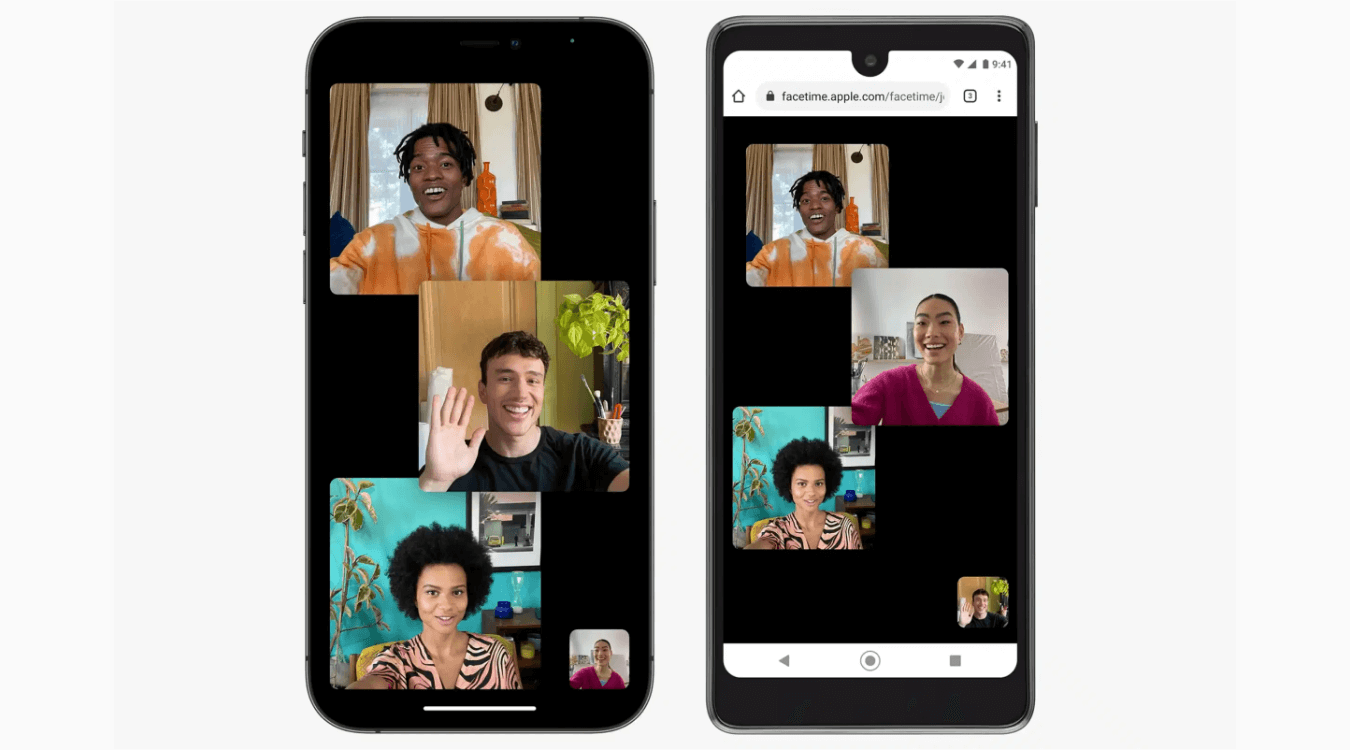 Facetime links
Now, Facetime calls are no longer restricted to Apple devices. With the Facetime links feature, the gates of the Facetime app are now opened for Android and Windows users. The Apple users can create a Facetime link and share it with other users via Calendar, email, messages, or third-party apps. The users can open the facetime links even with web browsers with end-to-end encryption guarantees to ensure privacy.
Child safety features
A couple of child safety features are launched along with the update that will roll out in the USA only, and later, the features are made available to other regions. It features:
Communication safety: the on-device machine learning is integrated with the Message app that analyzes image attachments to determine if the photo is sexually explicit. If such a thing is found, the child is warned and the photo gets automatically blurred. Instead, the child attempt to view and share sensitive photos, the parents get alert for the same.
Child sexual abuse material scanning (CSAM): Apple analyzes and detects the images stored in iCloud that contains CSAM. Later, the instances are reported to NCMEC- a non-profit organization that works with US enforcement agencies to find missing and exploited children. The user's privacy is ensured when CSAM is designed because the database of photos is converted into an unreadable set of hashtags.
CSAM guidance extended to Siri: now, Siri can also provide CSAM guidance with additional resources that keeps children and parent safe while they are online. Also, helps users in unsafe situations. For instance, Siri can answer all the queries related to CSAM and children's exploitation.
What's improved?
Notification is now redesigned
The iOS users will see the notification on the mobile screens in a completely different form with a series of changes brought to them. Now, notifications will display contact photos of the users alongside larger app icons that make the app easy to identify. The notification summary gets a personalized view by collecting and organizing the urgent and non-urgent notifications based on the on-device intelligence. It includes user interactions analysis with the apps and then prioritizing the notifications according to their relevance and importance.
Read more : Hire React Native Developer For You Next On-Demand App
A new alternative enables users to mute app or notification's thread if they don't want to engage with the same and OS also makes suggestions for the same if they analyze user is inactive. A new notification API is launched for developers to send time-sensitive notifications.
Spotlight is enhanced
The AI intelligence is added to the spotlight that enables users to search photos by location, scenes, object, or people. The live text feature introduction facilitates identifying text and handwriting in the photos. It supports web image searches and provides good results for movies, TV shows, and actors. Besides, the spotlight is accessible from the lock screen and allows users to download other apps without leaving Spotlight.
Safari interface
Safari gets a new design with all the control placed to the bottom of the screen for easy reach. A new compact bar is added to the bottom of the screen allows users to easily swipe between tabs. The support for voice search, mobile web extension, and custom start page is provided. New tab groups enable users to save tabs in a folder and sync them across all the Apple devices. It also features new privacy protections such as intelligent tracking prevention which prevents trackers from profiling and upgrades sites from insecure HTTPS to sites supporting HTTPS.
Facetime is modernized
In the new version, spatial audio is added to Facetime that makes voices sound as if the user is located at another users' screen. It's due to a new microphone mode which separate users' voice from background voice thereby facilitating interruption-free video call. Also, it features a new portrait mode where the background is blurred, alerts are muted, and the user is put in a focus that makes a video call perfect. The grid view addition allows users to view other users during the group video call.
The Photo app gets a major update in iOS 15
The considerable changes are brought to the photo app in the iOS 15th version release that includes:
Memories render personalized experiences by making recommendations for songs based on the Apple Music listening history.
New memory looks to analyze the photos and adds moods to them with optimal color adjustment and contrast.
Richer info pane provides detailed information about photos.
Photo image picker facilitates photo selection in a particular order for sharing.
The speed of iCloud photos syncing on new devices is improved in the latest update.
Maps become more interactive
The interactive globe view is added to the Apple map followed by the detailed presentation in 3D view. New labels, custom-designed landmarks, new road colors, and a night-time mode are introduced. A new 3D city-driving experience is eye-candy that includes details like- medians, turn lanes, pedestrian crosswalks, bike lanes, and more.
The AR-based walking directions view allows users to hold phones and in-app camera generate position to provide detailed walking directions. Place cards get redesigned which makes finding and interacting with business and location information becomes a breeze. The redesigned transit navigation makes it easy for travelers to find nearby stations and pin favorite lines.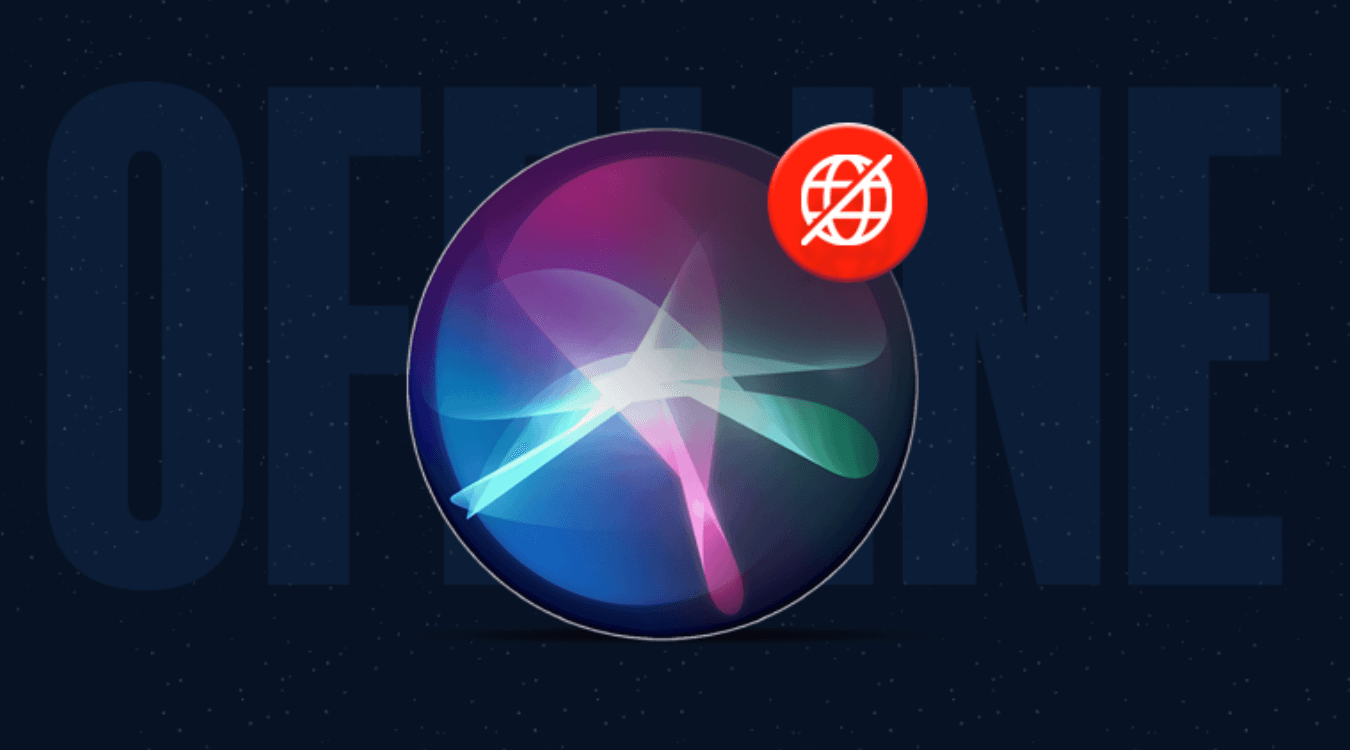 Siri – Siri offline on iPhone and iPad in iOS 15
Siri got a new update that enables Siri to process requests even when the phone has no internet connection. The on-device speech recognition and processing using a neural engine improve security and device responsiveness. Siri's understanding gets improved as the users use the device. Siri learns and gets trained for users' interaction with contacts, words they type, and new topics they go through.
Also, it's powerful enough to take screenshots and share onscreen items anytime, anywhere. Siri can automatically send a message or place a call by analyzing the onscreen context. The neural text-to-speech voice support is extended to more languages.
Health app
The health app has now got major additions for better performance. They are:
A new sharing tab that enables users to share health data with family members.
Lab results presentation is improved with highlights, descriptions, and options to pin.
Trends detection capability allows users to know about the changes in the health metrics.
A new health metric- walking steadiness is added for risk management.
Users can maintain a record of Covid-19 immunization and other test results by scanning the QR code from hospitals.
Blood glucose can now measure and show levels even during sleep and exercise with an interactive chart.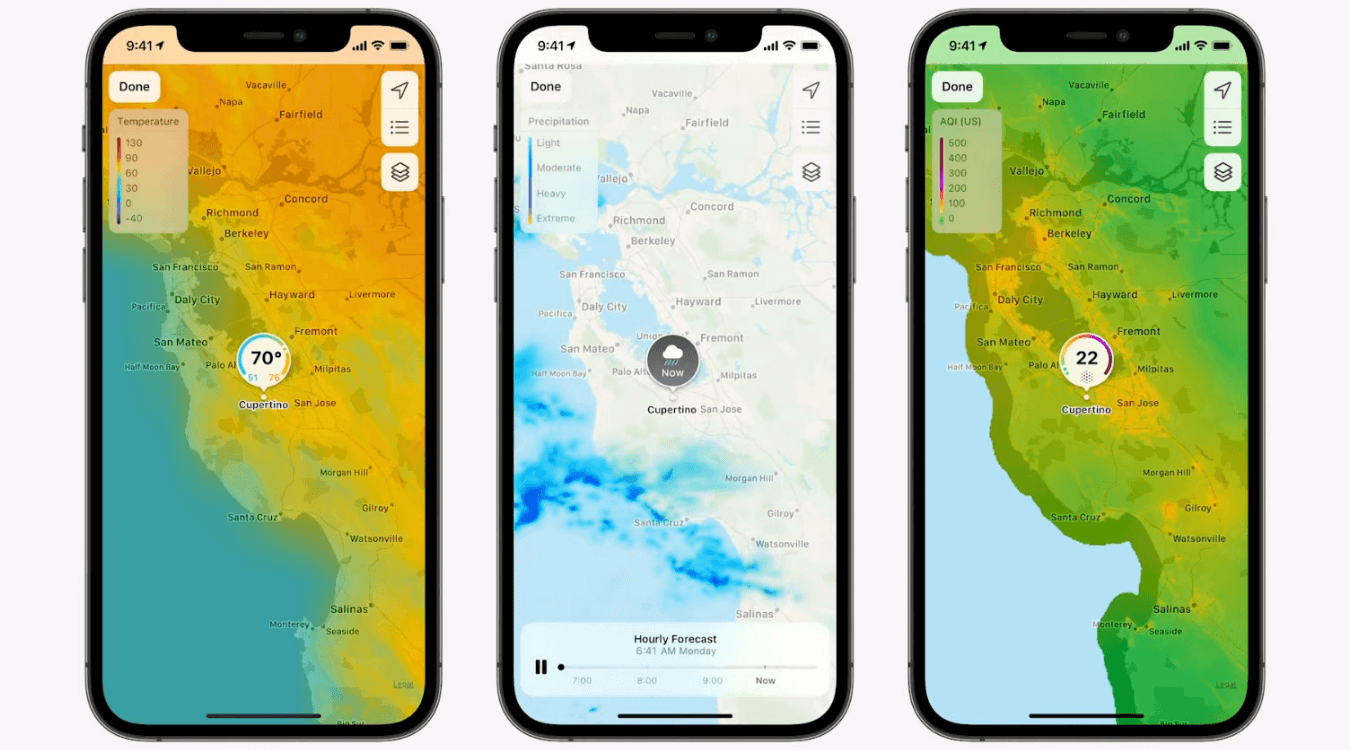 Weather app
Apple users now see a completely new interface in the weather app. Now, it features a full-screen map, graphical displays, and a dynamic layout that gets modified based on the weather data. The redesigned interface has an animated background, which precisely showcases the sun's current position and precipitation conditions. The notifications are sent when major changes are observed in the weather such as rain start or stop.
Conclusion
Apple has successfully launched a beta version for developers and now, its developers turn how they take up innovative features and experiment with new additions and tweaks. Let's wait and watch how developers react to the beta version of the full-fledged iOS 15 version that's expected to roll out in the coming fall.