"A fit healthy body is the best fashion statement."
Physical activity and exercise are important for everyone. People of all ages need regular physical activity being its children, adolescents, or adults. It promotes good health. The study reveals that people who are physically fit are also healthier, and able to maintain their most optimum weight and are not prone to cardiac and other health problems.
Maintaining a healthy lifestyle can be a challenge, and even the biggest challenge is to persistently keep track of that lifestyle. For you to be the best version of yourself, you need to take care of your body and treat it right. Getting plenty of sleep, taking a healthy diet, and exercising daily, are prerequisites of leading a healthy and fit life.
In this competitive world, it is not always possible to align one's health and fitness with the erratic schedules, having less time to sleep, missing meals, and much more. Thanks to technological advancements, we have immense fitness tracking apps in the market, which helps in achieving a fitness goal.
The age of digitization has given us mobile apps that can help perform fitness exercises with extreme ease with your flexibility with time. With these fitness apps, you can set your goals and they keep prompting you to follow them.
They come implicit with tools such as calorie calculators, footsteps monitors, distance sensors, or trainers who often plan your workouts and coach you along. Other offerings of fitness apps include the ability to heart rate train, monitoring progression, blood pressure reading, and weight loss progression.
Statistics reveal that Revenue in the Fitness segment amounts to $1,786m in 2020 and shows an annual growth rate of 5.2%, resulting in a market volume of $2,189m by 2024.
Excited to know about the best-in-class fitness applications that keep you fit and healthy in 2020? If so, here is a list of top ten health and fitness apps across all platforms that can help you achieve your desired fitness goals:
Calorie Counter- MyFitnessPal
Available on both Android and iOS App Store, My Fitness Pal is considered the best health and fitness app in the market for accounting calories and provides suggestions as to how many calories you need to consume, maintain or lose one's weight.
Fitness Apps Features:
Its comprehensive food diary keeps track of meals and then calculates calories consumed against calories burned.
It also has provisions for tracking weight changes over time.
With its recipe import feature, it adds nutritional statistics of homemade meals as well.
It has options for checking restaurant order recommendations to make healthy choices while dining out.
A premium subscription removes ads and includes a breakdown of macronutrients (fat, carbohydrates, fat) and other advanced features.
Water Tracking and Log Cardio Exercises including running, walking, biking, swimming, yoga.
Strava
Available on both Android and iOS App Store, Strava is an ideal fitness app for cyclists and runners, and swimmers, who love outdoor ventures.
Fitness Apps Features:
In Strava, the network and tracking features enable you to compete against your fellow fitness fans.
It records the routes and analyzes statistics as pace and calories burned.
In the Active Community, you can join the monthly digital challenges and local clubs to share your workouts.
The unique dashboards track progressively metrics such as height gained, speed, time, distance, etc.
You can share location via GPS in real-time with peers and family.
Strava uses HealthKit to export your Strava activities into the Health app and to read heart rate and biometric data.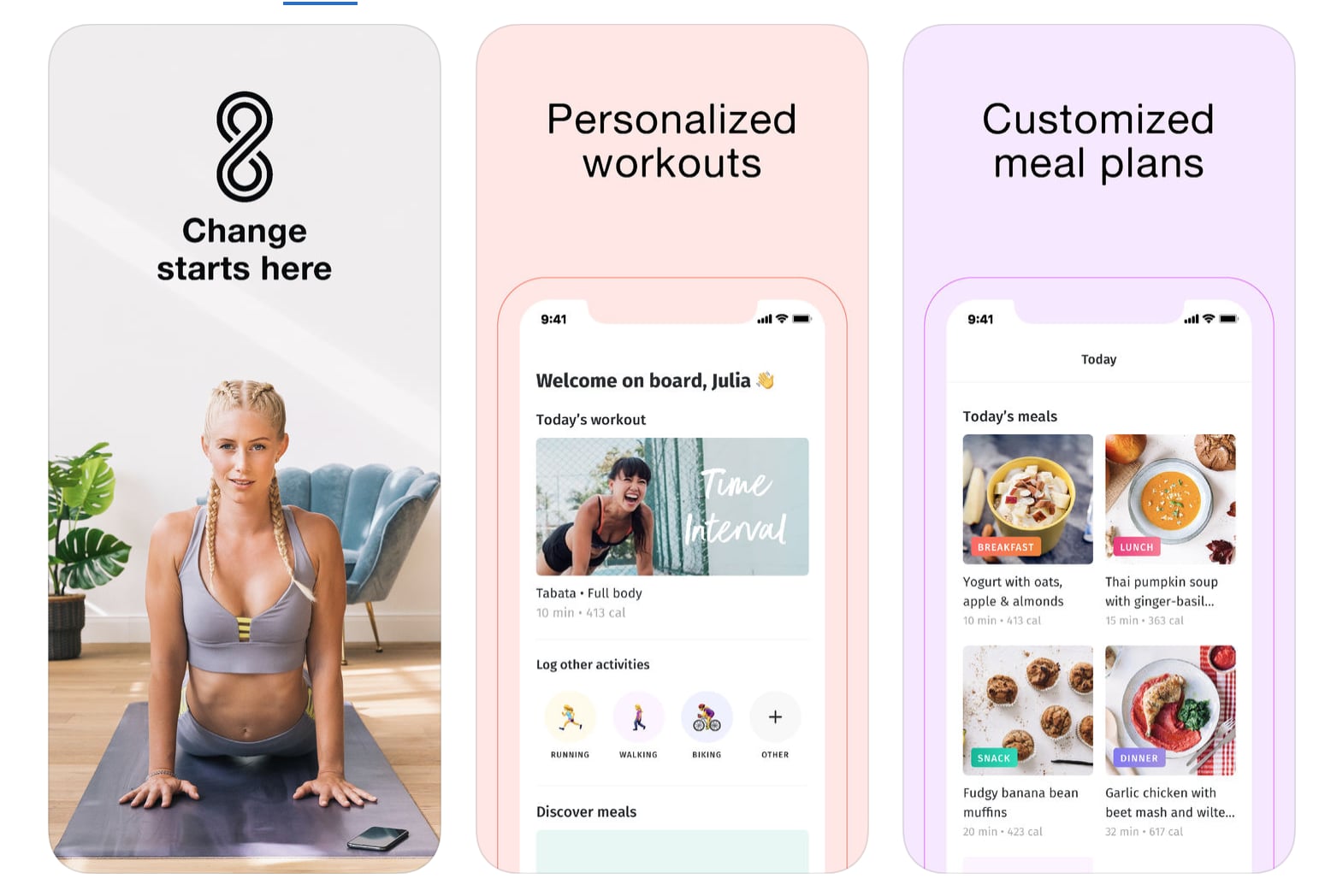 8fit – Workouts & Meal Planner
Available for Android and iOS app store, 8fit is the leading fitness app and your mobile personal trainer.
Fitness Apps Features:
It has provisions for on-demand workouts and meal planning. It creates customized and personalized programs for your diet and exercise based on the results you expect to see.

It is most of the time suitable for people with lots of guidance, reminders, and instructions.

Choose your personalized goals to be it to lose weight, get fit, and gain weight.

You can create meal plans using recipes and shopping lists. It can be customized to your taste.

Endurance building and scientifically backed workouts.

Select your personalized meal exclusions and diet filters.
SworkitFitness and Workout app
Having availability on iOS and Android platforms, the app is different from others as it goes for flexibility and the ability to offer users with a plethora of exercise options from yoga and cardio to stretching.
Fitness Apps Features:
It's flexible, and you can alter the exercises as needed.
The app offers monthly challenges and training classes (through audio or video mode) that get difficult as you get better.
The app especially focuses on abs, back, and the one that aims both.
You can decide on your daily schedule.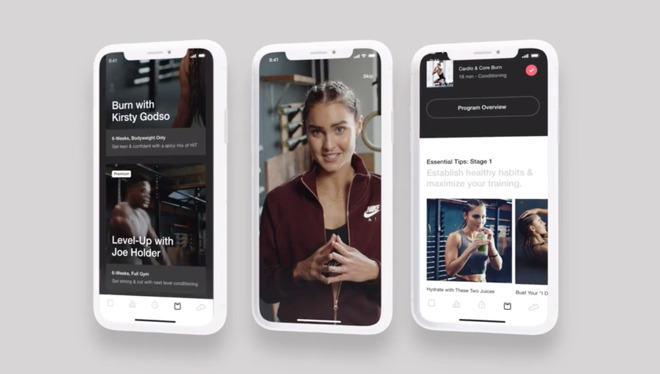 Nike Training Club- Workouts & Fitness Guidance
Nike Training Club is an incredible app for pros to beginners, the app screens your runs through GPS, and offers 15 minutes exercise sessions and personalized and customized workouts. Also, you can blow some money on sneakers, socks, gym bags, and other workout goods.
Fitness Apps Features:
Freely available, downloadable workouts feature high-quality videos.
You can meet your goals with workout collections like- "Enhance your training with yoga."
Get Master Trainer-designed fitness and nutrition programs, trainer-led classes, and more features with premium subscription.
Workouts for all levels.
Expert tips from trainers.
Seven Minute Workout
It is the best fitness app for those who have no time to hit the gym or commit to a time-consuming home workout routine, just at the level and pace that's right for you. The app has other options beyond the classic seven-minute routine, like the First Timer, Intermediate 16 minute, and core workout.
Fitness Apps Features:
It offers an intuitive and attractive interface.
Audio and visual cues to tell you when to start and stop each exercise.
Pre-workout demonstrations.
The app provides a HICT workout regime to make you healthier and muscular.
It balances simplicity with adequate information that is apt for the user for nearly anyone at any ability level.
The app challenges you to keep up the daily workouts for seven months, missing more than three with resets and you start over at day one.
Personal trainer with voice and video instructions.
Beginner friendly workouts that are easy to perform.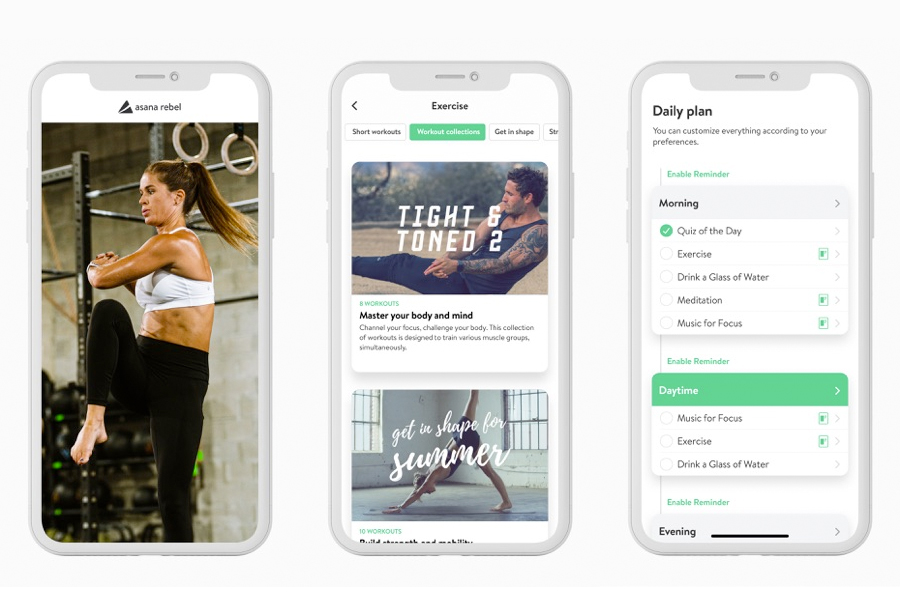 Asana Rebel: Home Workout
Asana Rebel offers hundreds of different workouts from HIIT to yoga as well as guided meditations. The app links all the yoga asana with workouts like mountain climbing, trekking, and burpees to make it progressively vigorous. It depends on your energy, level, and mood, and you can pick asana as per your flexibility, fat burn, and strength.
Fitness Apps Features:
The quizzes are interesting and claim to keep your mind sharp and your knowledge up-to-date.
Workout previews and full video previews with exercise tutorials.
Adidas Running App by Runtastic – Running Tracker
Runtastic has all the features needed for a fitness tracking app but the features added to it, it connects with smartwatches, offers training plans, statistics, and provides feature story running.
Fitness Apps Features:
The mobile app syncs with social media and workout can be shared to Facebook
The modern Artificial Intelligence Learning is integrated to provide the users with the facility that they can customize info about their daily workouts.
Offers personal fitness tracking, along with real voice coach guidelines, and daily and yearly workouts.
Easy run tracking in real-time with implicit GPS.
Dashboard customization as per needs possible.
LIVE Tracking and Cheering.
JEFIT Workout Planner Gym Log
It is a workout tracking app, it consists of various programs listing from 5X5, strong lifts, 3 or 4 day splits starting strength to advanced bodybuilding, and weightlifting routines. It has training levels from beginners to advanced lifters.
Fitness Apps Features:
Track Workouts.
Exercise Instruction Database having over 1300+ demonstrations and variations by experts.
Intuitive tools.
You can set Goals in JEFIT's custom journal.
Add friends and compete with them.
Body Measurements and weekly planners for scheduling.
Social feeds.
Personalized charts and scale for lifting volume.
Epilogue
The best-in-class apps that are specially designed to keep you fit and healthy are enlisted. Decide what you want to do in your workout and then select the fitness app accordingly to accomplish your fitness goals. Tighten your seat belts and start your workout right away. All the best!