Saying Ecommerce App Development Companies In Germany is the mature e-commerce market in Europe won't be an overstatement at all because 84% of the customers prefer to shop online. Even Germany ranks at the fifth position in global eCommerce sales with a turnover of 103.4 billion Euros in 2022, which is up by 10% from the last year. The revenue is projected to reach $87,445 million by the end of 2022.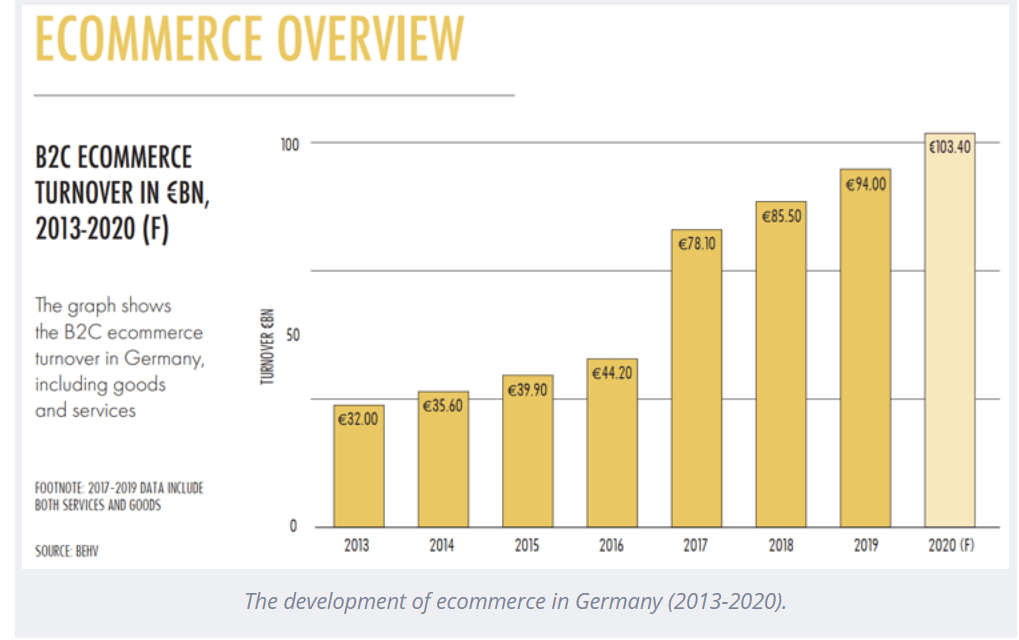 It indicates that Ecommerce stays on the top of the German shoppers' minds. People prefer online shopping rather than buying in-store because of the outgrowth of internet usage, GDP increase, PayPal as the payment option, and convenience of home delivery (Germany ranked as the world's #1 for logistics performance).
That's the secret recipe of eCommerce mobile apps solutions stores in Germany that are making billion Euros in a year. The attractive figures are gearing up budding entrepreneurs to try their hands in the E-commerce market by teaming up with the best eCommerce development company in Germany.
Are you the one who is looking for e-commerce app development services? Are you confused with the myriad of options available for Ecommerce development companies? Do you find it difficult to make the right choice? If so, don't worry, we have got your needs covered in this listing blog where the top 7 Ecommerce App Development Companies of Germany are enlisted.
Let's dive in!
Nectarbits Pvt ltd
Ecommerce App Development Companies In Germany
The leading web and On-demand mobile app development excel in building best-in-class eCommerce online stores that perfectly meet diverse business needs. The company has required tech talent and product development expertise that enables eCommerce development company at speed while keeping stellar communication at the core.
The scalable, mobile-responsive, and high-end stores are built leveraging emerging technologies to make the store step in with the online trends like- AI-based customer support, AR or VR-based virtual try, big data analytics-based smart recommendations, and much more. With a global presence, the company has served more than 100 clients, and the number is still counting.
Ziggle tech
The Ecommerce development firm is recognized by Forbes for building outstanding digital solutions for start-ups. Maintaining a pace with evolving digital trends and adapting to new technologies, the company builds a robust and scalable eCommerce platform to meet the needs of growing mid-level businesses.
The Ecommerce development company also won the award of best eCommerce agency in 2022 by DesignRUSH.com for E-commerce development and designing, Ecommerce platform migration, PWA development, and providing digital marketing services for online commerce.
CIKLUM
The global digital commerce solution development company is working since 2002 for Fortune 500 companies and fast-growing enterprises. The company boasts of having a team of 3500+ developers in 21 offices that have served around 1200 clients across the globe.
The company is recognized for offering unmatched services by international associations like- Gartner, Forrester, DevOps, and IAOP and won other awards. With technology and engineering excellence, the company modernizes the business platforms with multi-platform eCommerce solution development, custom solutions, UX & personalization services, multi-channel sales, and readymade digital commerce products.
IT Delight
The digital commerce agency founded in 2011 has a high level of skills and expertise in Magento development and WordPress development. The company with a team of more than 50 developers is a certified Shopware agency to power the eCommerce store with less complexity and higher flexibility.
Since 2012, the company aims to build an online store that adapts to the changing trends for continuous growth and a consistent stream of ROI.
Inpsyde
Germany's biggest WordPress agency works as a certified WooCommerce expert that design, develop, test, and launch flawless websites. Additionally, the company provides support and maintenance services and third-party plugin integration.
With 13 years of development experience, the company is engineering the solutions for B2B, B2C, and SMEs that perform the way they are performing on day one of the launchings. For smooth data flow, the online shops are seamlessly connected with existing CRM, ERP, PIM, or MAM solutions without downtime issues.
Seguro Technologies
The company was founded in 2010 having offices in different countries including Peru, Ottawa, Germany, and UAE. The company has helped small, medium, and large-size enterprises to meet their online business needs with Ecommerce development.
The well-versed team has the experience and expertise in working with the latest CMS and eCommerce platforms like- Shopify, WordPress, Magento, Drupal, OpenCart, Joomla, and Grav to build better and high-performing online commerce solutions.
Brand Pioneers
The Hamburg-based Ecommerce development company aims to build user-centered solutions that thrive in the market. With UI/UX design, the team aims to create value for the customers; with robust and quality code, the team ensures scalable store development that performs; and with excellent marketing strategy, the team guarantees the eCommerce solution that sells products.
With complete knowledge of the Do's and Don'ts of eCommerce Mobile Application Development Companies & Developers, the team of more than 50 developers simplifies the complex development and optimization process.
Embitel
The company is a professional Magento eCommerce development solution partner and Silver adobe solution partner that's rendering a wide range of eCommerce development services. With Magento Commerce and Adobe experience cloud, the company is aiming to build a store that increases awareness, conversion, and retention.
The CMMi level 3 company performs business objective analysis for platform selection, then move on to custom design and development, facilitates legacy system integrations, and plans to transition. In the same vein, the company provides eCommerce consulting, eCommerce managed services, and eCommerce business analytics and intelligence services.
Conclusion
Nectarbits technical and marketing maestros brilliantly understand the role of an eCommerce development company in shaping business ideas and making dreams come true. That's why based on the market knowledge of Germany, the list of top 7 Custom e-Commerce App Development Companies In Germany is compiled that brilliantly meets your online business needs. If you find any names of the top eCommerce development company missing on the list, then do share with us. We would love to include it in the next update. Stay tuned to us.